It seems just a few days ago (four days ago) that I was harshing upon myself for posting uncomplicated ideas over the months of summer. Dress upon dress.



Layering is less natural in the summer because it's one temperature outside: HOT. Of course, there is the need for a jacket or sweater indoors, in overly-cooled office environments, but that's not quite the same thing.

Even though the weather is conspiring against me, I still have ideas.


Ultra-light layers! Wear a silk tank worn over a cotton lawn blouse, with a beloved safari style jacket over both for indoors.


Why is this safari jacket so beloved?

Perfect weight, buttery color, and most importantly, tabs at the waist for shape.


And that's just the start.

We can build this outfit up further, with a summer scarf.


Here I will take a moment to marvel at the fact that there are an almost infinite number of colors in the universe and millions of pieces of clothing . . . and look at how perfectly this scarf and tank go together.
I've written
rhapsodically about this scarf
in the past. Here, the paisley works well with the foulard even though the cotton of the scarf is much less formal than the silk of the tank.
Adding a little more depth to the ensemble is a giraffe print. Ah, the genius of
animal prints
. The shoebox says these are black and white, but I actually think they are a very dark brown.
I have a pair of dark purple (aubergine) patent leather flats that would also work well, if I wanted closed-toe shoes instead of sandals.


For those who like to keep track, the color scheme is: white, apricot, fuschia, aubergine, and dark brown.

For those who, literally, want to get beneath the surface of things, I've included a photo without the jacket.
I found this tank while looking for a slip dress to wear under the
Wonderful, Awful Idea
. The front looks like it is pieced from two distinct fabrics, but it's not; the two patterns (dots and foulard) are printed on one fabric; the back (which I should have photographed) combines two more menswear patterns (paisley and checkerboard).
The sides are sewn together just under the armscye; most of those side seams is actually not seamed at all. Thus, in the gentle evening breeze, you can see movement. So graceful . . . as long as you are wearing something underneath.

I'm not going to tell her how to live her life . . . but she really should be wearing something under that tank.

Unless she's already sewn up the sides.
And before heading home, a quick double self-portrait.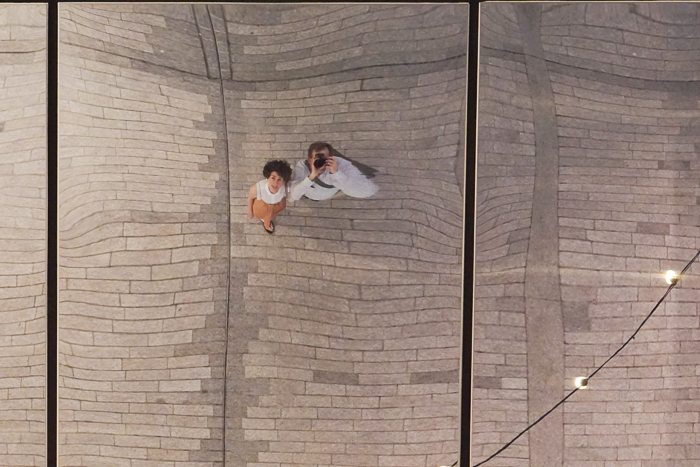 Jacket: Benetton; Silk tank: Helmut Lang
Pieced Scarf-Print Silk Camisole Top
; White blouse: Jack Wills from ASOS; Pants: JCrew; Sandals: Donald J. Pliner Fifi; Bag: JCrew: Scarf: Tory Burch; Bracelet: Dina Mackney; Watch: Michele CSX