I think I advised you a couple of months ago that ivory cords are useful? I know I warned you a week ago that there would be a lot of black and grey in the coming weeks as we march through my depths of winter wardrobe.



Here we have the marriage of ivory cords with black and grey.


On a day when one has no fixed appointments, it's kind of cozy to wear slouchy cords with a slouchy turtleneck.

The jacket, however, is giving me respectability.

I've had this melton wool jacket for years and will describe four small details that unfortunately are not completely visible in these photographs.
Behold the details in your mind's eye: (1) a double collar; (2) shirring at the waist which provides a defined waist, but comfortable fit over hips; (3) button tabs to enhance definition at waist; (4) pick stitching at cuffs and collar.

The turtleneck is space-dyed which gives it visual interest. Don't you you love the visual movement in space-dyed fabrics? They look like they're going places.

This picture shows the collar better; there is a small stand collar just inside the Peter Pan collar — a very nice detail.
To brighten things up, a little color: bright gold in my bracelet and a red bag.
And lastly, a new pair of red shoes. (I did offer them to you
first
.) These are a nice deep red, very shiny calf-skin with oversized kiltie tongue.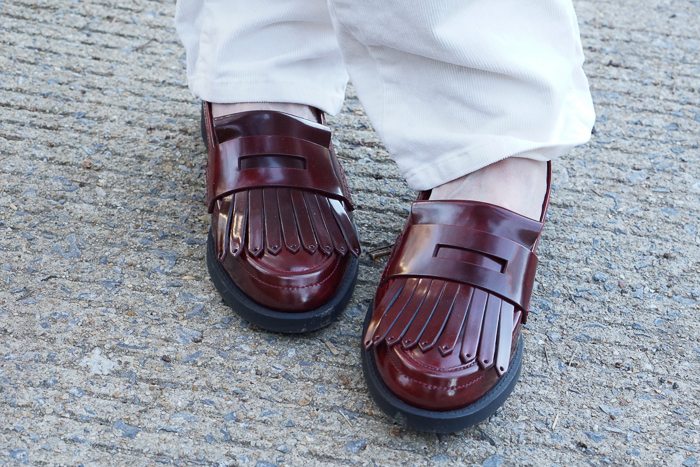 NB: Some of you have inquired about space-dyeing. Here is an explanation that I found on l'Internet. Space dyed yarn is a term that defines the dyeing process in which multiple colors are applied along a length of yarn (usually a continuous filament strand) at intervals. This process can be achieved through several methods: 1) Knit-de-knit process of printing on a knit fabric and then unraveling it; 2) Warp yarn printing; 3) Yarn package impregnation where a thin stream of dye is spurted out from a needle into a yarn package; and 4) the spraying of colors onto the skeins of yarn. Hmmm. Setting aside syntax and diction, that explanation raises more questions than it resolves. Knit-de-knit? Impregnation? Here is my take-away: Thread or yarn is dyed at intervals and when it is woven to create fabric, the color aligns in a streaky pattern. Space-dyeing is often tonal, but can combine different colors.
Jacket: JCrew; Turtleneck: JCrew Tissue Turtleneck; Corduroys: Talbots: Shoes: Marc by Marc Jacobs Wooster Kiltie Loafer; Bag: Kate Spade; Sunglasses: Illesteva