I have hazy but warm and cozy memories of my paternal grandmother, who died when I was six years old. The kitchen (gingerbread, pancakes) is at the heart of them. She was a master of domestic arts and had a special knack for keeping small children (like me) occupied and entertained. I have her sewing machine — an old ebony Singer — which I used until the early 00s when it stopped working and could not be repaired. (Brothers Sew & Vac in Cleveland Park tried, but a replacement part could not be found. Love Brothers!) I'll always keep the machine because it gives me an on-going sense of connection to her.



I also have a massive set of Blue Willow china that she assembled over many years.

I love this old-fashioned pattern; it continues to look fresh because blue and white are an unbeatable combination.

When I saw this blouse, it reminded me of my Blue Willow, and I could think of at least five different uses for it.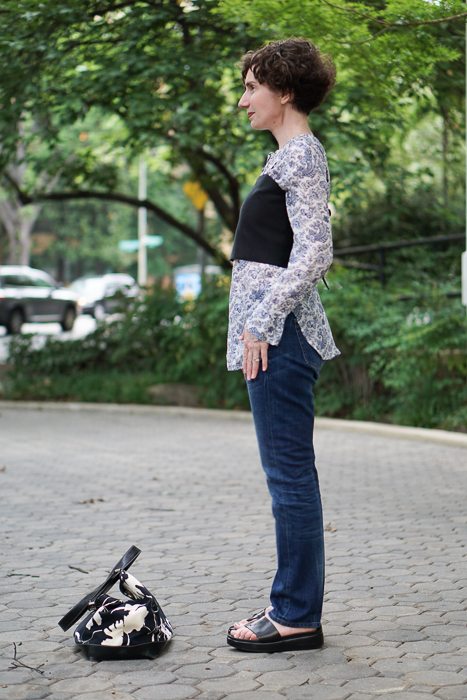 Here are the ideas I had between the sales rack and the register:
with white pants in the summer;
with jeans and a khaki jacket in the spring or fall;
under a black sleeveless dress in the winter;
with navy pinstriped suiting;
with a cozy black sweater and black wool cropped trousers in the fall.
Later I decided I could wear it like this . . . . layered under a strappy top with jeans!
It's a blouse with a tiny cropped toplet.

I saw this black top a couple of months ago and thought it was adorable, but clearly not suitable for me to wear as designed. But using it to give shape to a sheer, billowy tunic? Now we're cooking with gas.

The blouse is sheer, so I am wearing a camisole under it.
The Photographer and I went out to take a few photos this evening. The sky was threatening, but we thought we had enough time to take the shots for this entry. We were wrong. We were nearly drenched by a sudden downpour . . . while standing less than 20 feet from our front door. That's how sudden the rain was. As a result, we didn't capture all of the different angles and details that I would ordinarily try to show. But I do have this funny series of me fiddling with my bag while trying to show the outfit from the side and back. I thought it might amuse you.
Of course the bag collapsed. It was only holding a pair of reading glasses and house-keys. Or perhaps it was responding to a sudden drop in barometric pressure.