Summer arrived suddenly, and seemingly in a bad mood, at the end of last week. Such a relief! Washingtonians were able to stop complaining about rain and start complaining about heat.

I spent Friday night putting away my winter clothes (which I was still wearing at the start of the month) and taking out my summer ones. Good news! I don't like summer, but I like my summer clothes.



This dress, however, was not among the things I took out of The Photographer's closet (which is home to all of his clothes and my off-season ones). This dress is new.

It's perfect for summer: a very lightweight cotton lawn with an elasticized waist and full skirt.


The fitted bodice with banded collar is very neat and tidy.


To keep the dress from looking too sweet (or twee), I wore it with these silver brogues.

Cole Haan calls these "court shoes." I don't know what that means. They aren't really suggesting I wear them for sport, are they?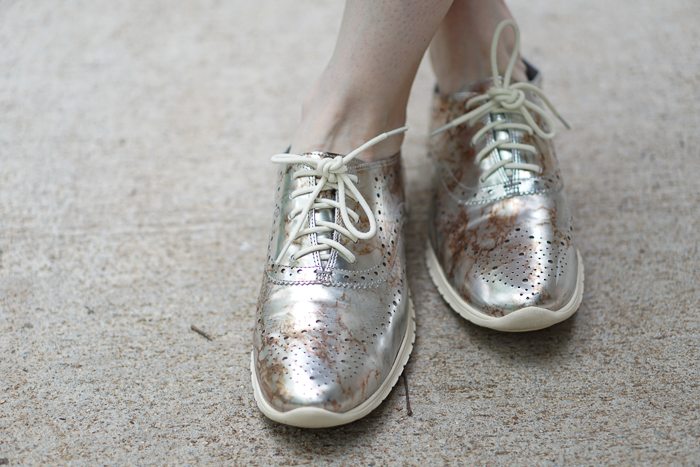 Above, I am carrying a striped tote bag, but I also like the look of this graphic floral bag, too.

When pattern mixing, you almost cannot go wrong by mixing stripes, checks, and florals in any combination.

O.K. Perhaps you could go wrong by mixing more than three different patterns in one outfit. Beyond that, the only limit on this rule is that you must vary the scale of the pattern if you combine two or more fabrics of one type —i.e., if you combine two florals, one should be large and one should be small.


Rounding things out is a casual watch with a double-wrap band.


The best thing about a dress like this is that you can sit comfortably anywhere.
Dress: JCrew Gingham Short-sleeve Shirtdress (it's sold out now, but I bet JCrew will find a way to re-stock before July); Shoes: Cole Haan ZeroGrand Wingtip Oxford; Watch: Shinola Birdy; Tote: Les Toiles du Soleil Tom Tote Bag (slightly bigger than mine and the stripes are horizontal rather than vertical); Handbag: Orla Kiely