For reasons I don't entirely understand, I was issued a credit rather than a refund from MatchesFashion.COM several months ago and my repeated emails to customer service did not yield a proper refund. Because I love MatchesFashion.COM — a love that may not be reciprocated — I let the issue go and have been been trying to expend this large credit for several months. I am finding myself shockingly unsuccessful.
All I wanted was to buy an interesting dress.
Come, re-trace my tortured path with me! Hear the reasoning! Witness the sound and the fury!


I began with a denim dress that is not terribly interesting, but awfully cute. It fit perfectly.

The only problem with it is that it was the weight of a denim jacket, which seemed too heavy and stiff to wear comfortably indoors — even in cold weather. It felt oppressive.

So, I returned it.
I bought this beautiful silk print dress, thinking it would be the perfect spring/fall transitional garment. I even set aside
my general concern about print dresses
(I sacrificed my principles!) for this dress.
Unfortunately, the waist was too tight in a size 6 and if I were to go a size up the dress would be much too big everywhere else.
The Italians can be so severe about the waistline
.
So, I regretfully returned this dress, too. (
And bought it later!
)
I dipped into the truly avant garde with this pieced creature. Note the use of a third fabric — white eyelet — for the back and the ties of the green apron haplessly crossed. I love this dress, but it was a little snug and a little weird, even for me. So, I returned it. But looking at the photos now, I realize it fit as intended.
Maybe I should have kept it. Maybe I should re-obtain it. (
I did!
)
Always a good idea, to look at the model to see how it is intended to fit.


Here, a charming maxi dress. I ordered an extra small, thinking that the volume of the skirt would be overwhelming, but as it turned out, the bodice was so tight (weirdly, no zipper) that I couldn't get the dress on over my shoulders. I was unable to try the dress on.

Good-bye, charming maxi!


This black and ivory dress is also charming and I thought it would be just the thing with platform sandals . . . which I pictured in red for some reason. This dress in size 4 was miles too big for me.

I thought about exchanging it for a size 0, but realized that the fabric — which is embroidered, not printed — would take a beating just through careful wear and dry-cleaning.

So, not for me.


And then this punk sundress. So fun! But here, too, the waist was incredibly small and everything else really big. I estimated that scope of alterations required to make it fit correctly was just not practical.

NB: Sometimes a complex cut with ruching and twisting is not so hard to alter — if you are not concerned with replicating the exact ruching and twisting and are instead with tacking and tucking.

My fantastic and extremely professional tailor will shake her head if she reads this.
Maybe you're looking at this one and thinking,
Directrice, you make your own trouble.
Perhaps, perhaps. But I thought this might be a long, lean look and that the belt might not look so much like a giant, forked tongue in person.
I should have realized that the gathered waist would hit far too low on me.
Also, the fabric was a very heavy crepe — which had a lovely hand, but was much too heavy for warmer weather wear . . . and when else would you wear a casual, sleeveless dress?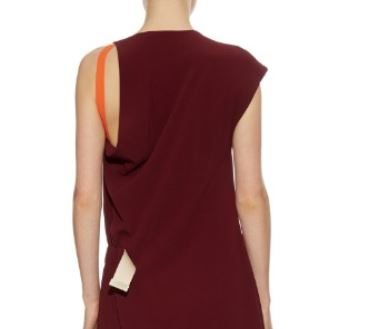 Here's where I landed. With a very traditional summer dress. You may think it looks a little dull, but it's actually lovely — made of a very light poplin, cut very well. I will wear it with an animal print belt and platform sandals. This is the kind of dress that you can wear — seriously — for 20 years. (
I bought this too!
)
If you missed it in yesterday's New York Times, here's a link to a Vanessa Friedman's essay, The End of the Office Dress Code. She's combined a few themes into one piece — employment discrimination, gender fluidity, individualism, and the changing symbolism of dress.
Have a fantastic weekend!
Post Script: If you live in Washington, D.C. you should go see the Paul Taylor Dance Company on Saturday night at the Kennedy Center. Promethean Fire is the third work on the program; it will astonish, exhilarate, and delight you.