To cross the Rubicon is to take a bold, intentional step from which there is no turning back.

Mother, Desh: Look away! You won't be able to unsee what follows.

Everyone else, settle in and feast your eyes.



I give you: The Pieced Wonder, a truly avant-garde dress of parts.

I previewed this dress a couple of weeks ago. I had purchased it, decided it was too tight (it was a size too small) and too weird, returned it, and then reclaimed it a week later . . . in a larger size.


The dress required a little alteration (it needed to be taken in along the longer shoulder seam and sleeve to tighten the fit of the bodice), so I brought it to my trusted seamstress and tailor at Bespoke Tailoring.

When I emerged from the dressing room wearing it, both of them looked stunned and then laughed with delight.

I think it was delight.

I announced, and Fatima agreed, that Washington D.C. needs this dress.

You Look Fab published a post on
styles
that transcend trends — modern classic, retro, and avant-garde — which I, a person who prizes longevity, found very interesting. According to YLF, avant-garde clothing has a timeless quality — it never goes out of style because it's never exactly in style. It remains innovative and experimental.
This makes perfect sense when you consider other art like, for example, the enduring, eternal modernity of The Rite of Spring. Looks (choreography) and sounds (score) as fresh today as it did in 1913.

If ever there were a need for Directrice360™.

Twirl, Directrice, twirl.

Don't forget to spot.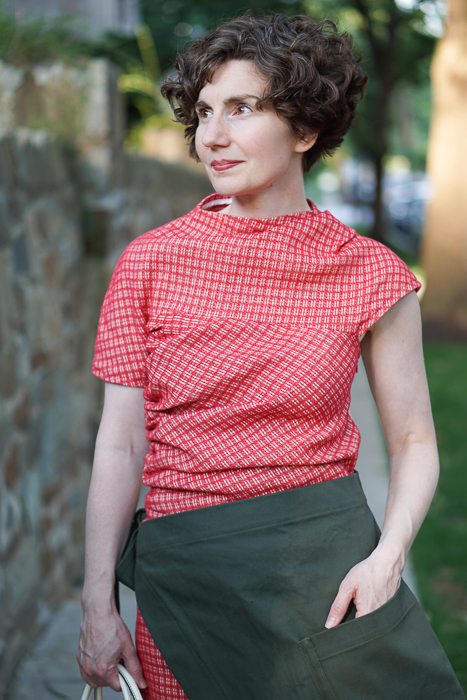 Let's zoom in for the details.

This close fitting neckline zips up the back.


The apron ties meet over my right hip. I tried to tie them in a tidy bow. Does it look weird?


So, what to wear with a dress such as this?

No jewelry is needed.
The shoes and bag should be stylized (but not caricatures) and keep things light and playful.

Fortunately, I have a white patent leather bag! And my new camel sandals . . . which are rapidly establishing themselves as indispensable.

I'd forgotten about this beautiful bag.
Don't ask me how.
This dress is, unquestionably, the most advanced thing I've ever put on. It represents the public expression of an outer-limit (for the time being) of my style, but not a permanent change. I can't dress like this every day. I don't even want to. My plan is to criss-cross the Rubicon.
Dress: A.W.A.K.E. Contrast-panel Ruched-side Dress from MatchesFashion.com; Bag: Ferragamo; Shoes: Giuliana Sandals from Sundance