After a summer of excess — excesses — I find myself drawn to something simple, understated, and neat.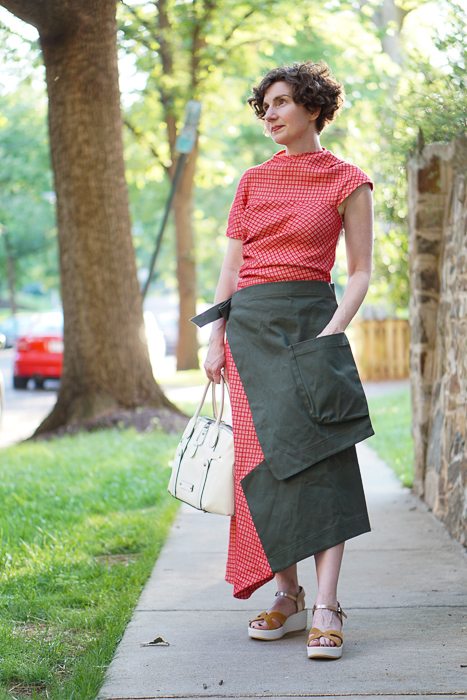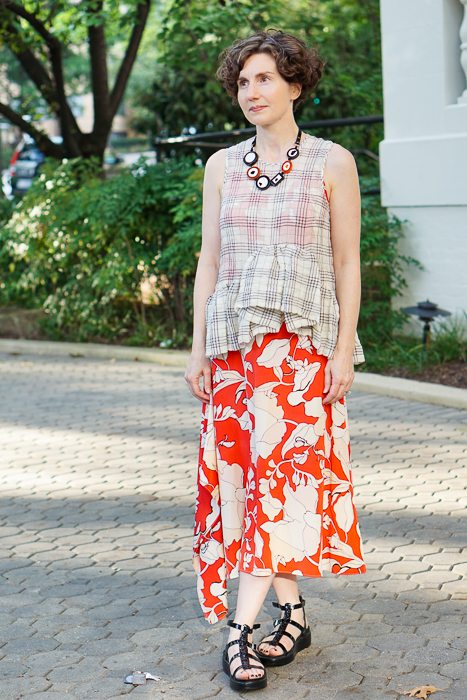 My brain is craving a little quiet. Like this:




Perhaps you are asking, What's all this, then?

A simple A-line dress with sleeves (another thing I am craving) in a navy wool gabardine.


With low block heels in black patent leather, it's just the thing for fall.


These are my old block heels, back in style after several years (too many years) of stiletto madness. I've been wearing them throughout the stiletto years, but it is gratifying to see that the world and I are back on the same page.

Also: there are many block-heeled, low pumps in the stores this fall, which shall be the subject of a forthcoming post!


My beloved dowager brooch works well with the fabric and cut of the dress.


The Photographer is trying to take a close-up of the brooch and while he is fiddling with focal length and focus, I have moved.
I've shared this brooch's origin story before — which frankly is not a "story" and is more fairly characterized as an account or, if we are being grandiose, an object lesson. I found this brooch in a store that sold religious candles, icons, many things related to the the Day of the Dead, and vintage jewelry while taking a break from a somewhat tedious conference in San Antonio.
The lesson? There are two: first, it's good to get up, move around, and go outside; second, you should always find a little time to see a place that you are visiting for work.


Despite the apparent simplicity of the dress, there is art to the effect. A contoured seam runs from my left shoulder diagonally to the waist where it leads to the inverted pleat that creates the A-line skirt.


Note: Rather than a black bag, I am carrying a glossy navy blue tote.

Could I have carried a black patent leather bag that matches my shoes? Bien sur. But I like the subtlety of matching the finish of the bag to shoes and the color of the bag to the dress.
This deceptively simple dress is Jil Sander. It comes in a number of colors and fabrications — wool gabardine, neoprene, cotton,
etc
, so there is one for every occasion and season.
Dress: Jil Sander from YOOX; Shoes: Tory Burch; Bag: Coach Poppy tote; Watch: Michele Urban with black alligator band; Brooch: the Universe, which works in mysterious ways