A couple of months ago, we discussed wardrobe priorities and I posited a theory that jackets are the foundation of a professional wardrobe. But if you were paying close attention, you may remember that I said a great blouse could fill the same function at a fraction of the cost.




Case in point:



This outfit is casual and simple, but not dull.

Actually, it's a little more complex than it might seem at first glance. In addition to an interesting cut, this top is made of really neat material. The pinstripes are actually stitched (not woven or printed), which gives the fabric a lot of texture. Minimalist platform sandals give a little modern edge to traditional khakis. The bag, which one of my friends refers to as "the disco ball," is close in color to the khakis, but sparkly. I love the natural vachetta handle on this bag, which provides an unexpected and beautiful contrast to the glittery gold.
With the end of a season upon us, I am scooping up a few things on sale.
This top is J.W.Anderson, from YOOX. Those of you with photographic memories will remember that I included it in a post about stripes (
The Virtues of Stripes
) a couple of months ago. And now it's mine!


For those of you who want to understand what's going on with the yoke of this blouse, I thought Directrice360™ would be helpful.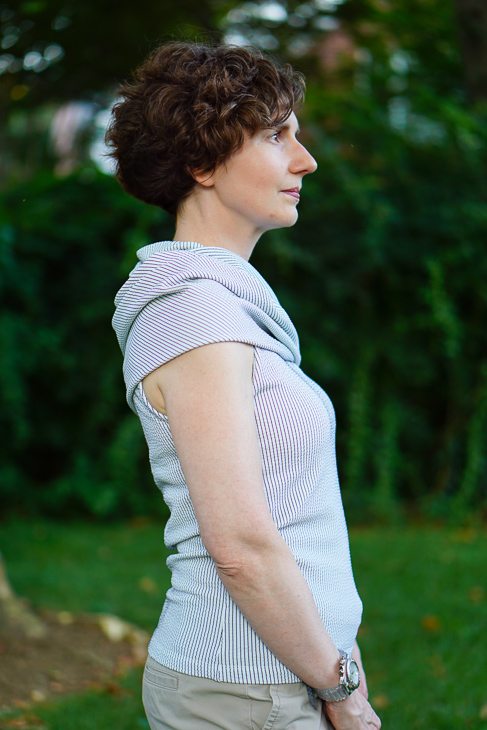 For those of you who really like details, here is the fabric up close:
If any of you have an idea about how to clean the Disco Ball, let me know. It has some dirt spots on it and I am not sure what I can do. I am also wondering whether anyone could re . . . re . . . re-glaze(?) this bag. I think the leather is both gilded and crackled, but I am not sure.
Top:
J.W.Anderson
from YOOX; Pants: Ann Taylor: Disco ball: JCrew; Sandals: Donald J. Pliner
Fifi Platform Sandal
; Watch: Technomarine "Cruise"; Glasses: L.A. Eyeworks "Tom"