Directorate, when I tell you that you should do something, how many of you actually go do it?

I would be satisfied if just one of you did. That would be a showing of influence sufficient to make me happy.*
I hope some of you took
my advice
and purchased Anthropologie's universally flattering Somerset dress.



I saw this dress on someone else's blog and was so struck by the graphic print that I figured I'd give it a try — even though the blogger is several inches taller and much thinner than me.

Imagine my delight in finding that it not only fit me, but that fit me perfectly and flattered my shape. If you look at the various models wearing this dress on the Anthropologie site, you will see a range of sizes and shapes and everyone looks beautiful. Well done, Anthropologie, well done.



Although I have generally worn this dress with my black Skecher and tangerine Sorel sport sandals, I did once wear it for a cocktail party with these old peep-toe, sling-back wedges.

Such a lady!



This dress came in at least 8 colors and prints, as well as cotton and linen fabrics.

It occurred to me, mid-way through the summer, that a black Somerset dress would meet all of my hot weather criteria: sleeves to protect shoulders from the sun, full cut (sleeves and skirt) to provide circulation of air and permit easy application of sunscreen, dark color to hide (or at least not reveal) sweat, fiber to machine wash with ease.

But I didn't want a black maxi.



The skirt of this dress is tiered and some of the tiers are finished with pintucking, which is a nice detail — so when I had the tailor remove the bottom tier, I asked her to finish the hem with the same pintucking.+



The placket on the front of this dress does not button or snap, which gives the dress a breezy (but not revealing) look. But you know that I do like to be buttoned up! So I have used my Don Quixote brooch to close and adorn the neckline.


I have also donned these slightly ferocious sunglasses.



Come closer and visit the brooch.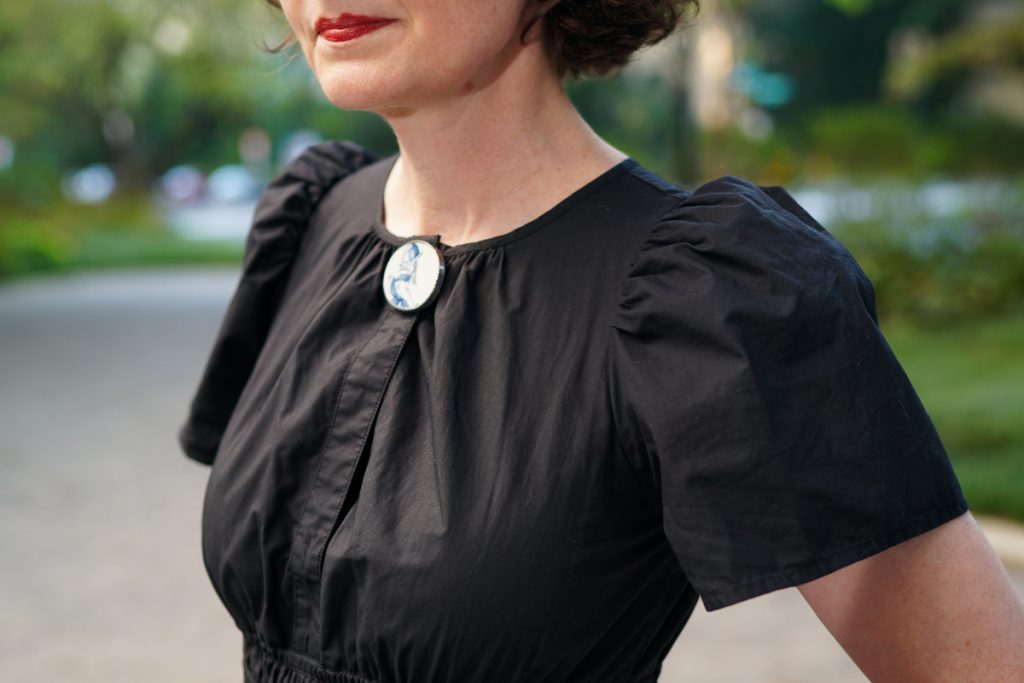 Perhaps you should come a little closer?

Cobalt blue and white combined with black: Very Effective.
Have a wonderful weekend!
* Two friends who read this blog told me that they bought Schmidt's deodorant based on my enthusiastic recommendation.
+ This was not Fatima! I needed the dress shortened on the quick for a trip, so I just asked the tailor at the local drycleaner to do it.