A simple dress can be distinctive if the color stands out.
My husband thinks this dress is blue, but it's actually green. Could The Directrice go viral on this question, like that MoB dress that ignited an Internet firestorm a few months ago?
To be fair, the two interpretations of my dress are a closer call. Michael thinks it's Peacock Blue and I think it's Jade Green. Both shades have green and blue in them and the difference is in the balance.




Maybe the dress is teal?



While this dress is simple, it's not void of detail. The ornamentation is just subtle: pretty top-stitching that matches the fabric and shows the contours of the dress . . . and probably makes me look more shapely than I am.
In case you are interested in the necklace, here is a closer view. While I've had this for years, some variation of it (Figaro chain, Albion pendant) is still available from David Yurman. The stone in the pendant is smoky quartz, which I think is a sophisticated color. It looks beautiful with bright colors and warm with neutrals.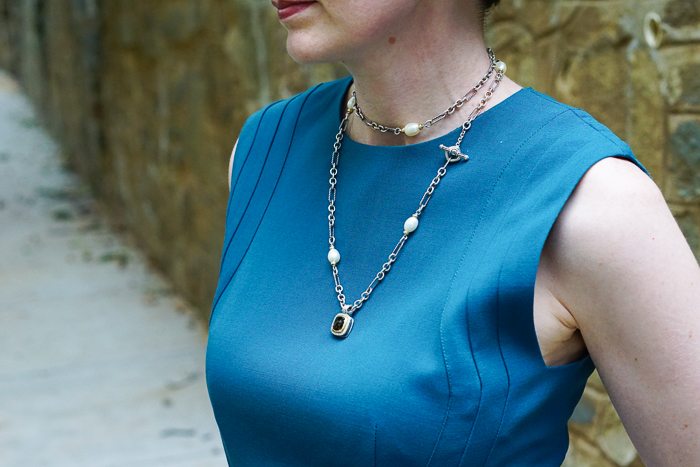 Here I am, heading off to work on a cool morning, wearing a little sweater for warmth. Because the sweater is cropped and cut (well, pieced) on the bias, it flares out at the bottom and shows off the waist of the dress nicely.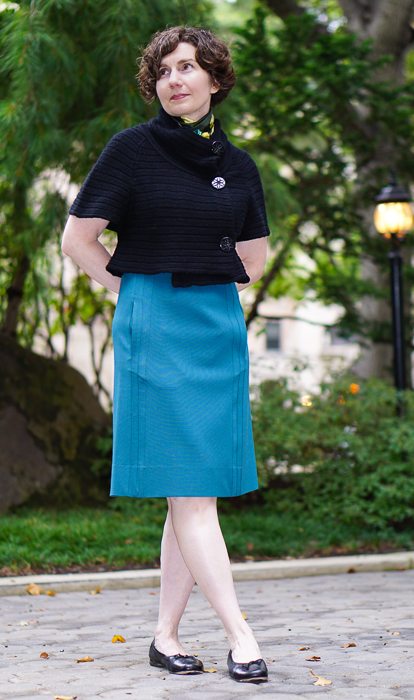 Dress: Diane von Furstenberg; Necklace: David Yurman; Sweater: Anthropologie (a brand called "Moth" if you can imagine!); Bag: Coach Gramercy Satchel; Shoes: Taryn Rose