This post is for anybody who works at home and finds that the boundary between dressing for work and dressing for bed has become very blurry. You can return to an office. Read on!

Some time ago, I assured you that you could be as comfortable at the office in Business Casual as you are at home in pajamas.
See
Soft Pants v. Hard Pants
.
Behold the knits that make those words true: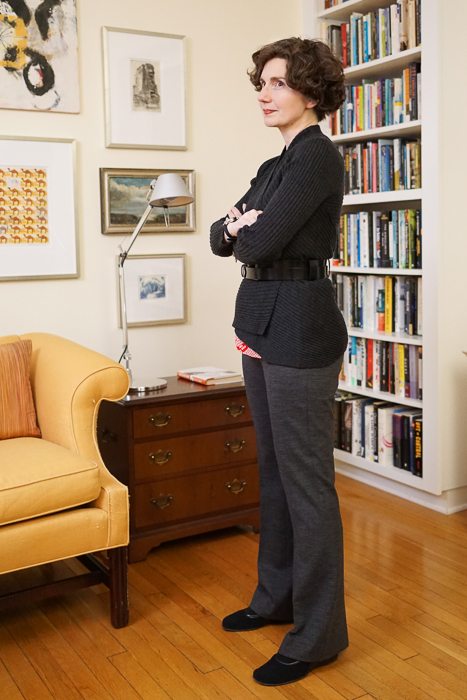 If you prefer (as I do) a more tailored look, a belt will provide additional structure to knits. For this purpose, I like a belt with some presence: wide, glossy calfskin (or patent leather) with some hardware (buckles, grommets, studs).
Using a belt to cinch the cardigan does make the ensemble less comfortable, but consider this: You can loosen the belt as the day goes on and if you're sitting alone in your office with the door closed, you can take the belt off altogether.
You may remember this belt from
last summer
?


I am a big fan of Eileen Fisher knits, which are expensive, but well made and durable. I bought this open cardigan at least 10 years ago and it's still beautiful. It has, however, grown asymmetrical — a change that I ascribe to home-laundering (I blame m'self) — but I like the asymmetry.

The pants came from Ann Taylor. Whenever you find a pair of black or charcoal grey merino knit pants that hang well on your figure, you must buy them. Please just trust me on this. They will serve you like an insurance policy that pays on the feeblest of claims over and over again.
Let's look at the details.


In an attempt to vary the indoor background, the photographer and I have moved to the other side of the living room.

Harper and Posy are keenly interested in this arrangement, and have come to investigate.
Above I am wearing the knits with a red silk blouse, which you may remember from this earlier
post
. I also wear this sweater and pants with a top made of pink tulle. With both tops, only a little shows.


For those of you who have requested more layer-by-layer shots, here is a fuller view of the tulle top and the cardigan unbelted.






Sweater: Eileen Fisher; Red blouse: Leifsdottir; Pink top: Sachin + Babi; Pants: Ann Taylor; Shoes: Taryn Rose; Belt: Philosophy di Alberta Ferretti; Bracelets: David Yurman