I am such a fan of the sweater vest, the layered tank, the smock. Anything I can put a white blouse under!

For Fall 2018, I am not content just to wear this top over a blouse. It needs a little bit more. It needs . . . a belt.
My skirt is old and you've seen it before. It's more flattering than I remembered. It, too, is pieced and has a horizontal seam across the back that creates a very nice contour that skims the figure — which you can see in the photos below. You can see the construction of the skirt better in
this post
.
This top looks like it's made of rags that might otherwise be destined for a car wash. (I don't think this is the first time that I've made
an observation like this
about something I'm wearing.) This fabric is very soft and wouldn't scratch your paint job. I also like the way that these rags have been layered and pieced into this subtle tunic.


Even without the piecing and layering, this fabric has a lot of texture on its own.

Perhaps you can see the texture in these photos.
Here is the Sheep Jones painting I've previously mentioned. (I mentioned it once, in 2017. You may have to
refresh your memory
.) I bought this painting in 2010 and lent it to a friend after realizing that it was too large for the spot I where I'd planned to hang it. After seeing Sheep's studio in 2017, I realized that I needed to
make
a spot for it by moving some things around, re-painting the dining room, and re-upholstering the dining room chairs. I love the life, the hidden worlds, the intrigue in this painting: the roots, the tadpoles, the larvae, the bones. And the string of orange dots in the lower right corner. So much to enjoy and I am so glad that my dear friend got to enjoy it for a number of years before I took possession.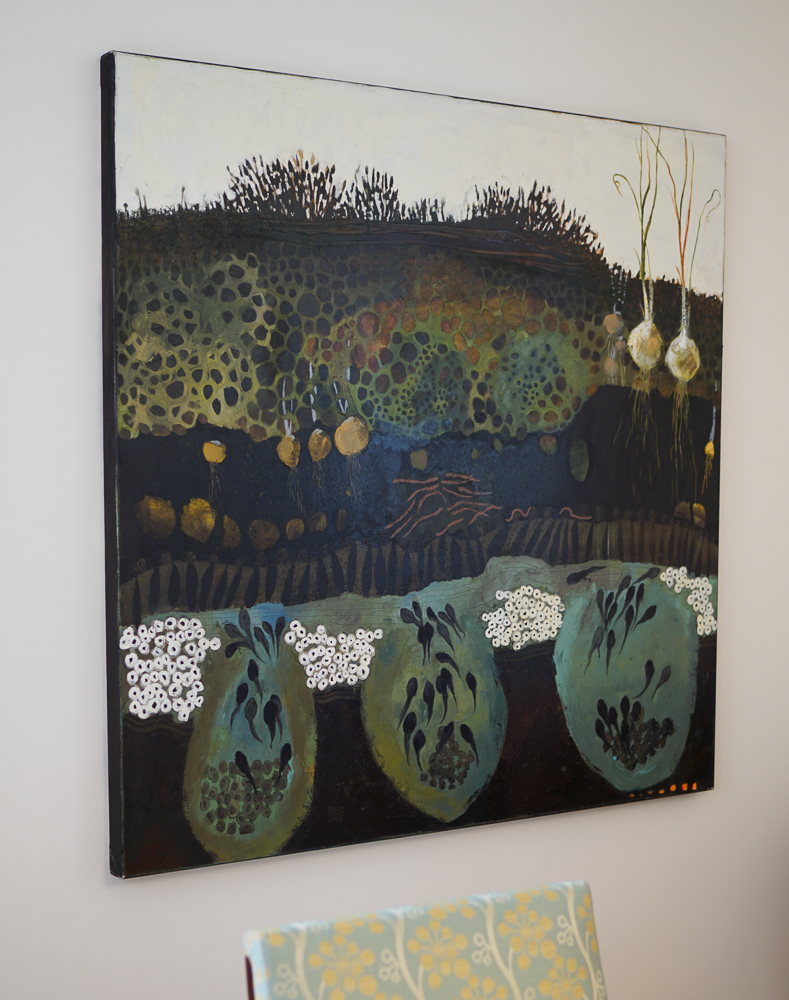 I also thought you might want to see a few photos of Philo.


After that domestic interlude, one final look at texture.


Now a piece of pre-holiday advice. You may need this blouse.

Of course, only you can know what you truly need, but it's leopard, it's silk, and it's perfect under a cardigan or sleeveless dress.

You do what seems right to you.
Skirt and vest: 3.1 Phillip Lim; Blouse: Talbots; Shoes: Tory Burch; Bag: Sophie Hulme Bolt Bag