I am a little torn in publishing this post. It was supposed to be the second of a three part series on utility dresses and I had planned to publish it Thursday. But it features a dress that is currently for sale and actually on sale through 11:59 p.m. tonight.



Because my life is a never-ending script of selfless sacrifice,* I am subordinating my desire for logical narrative to your possible interest in a bargain and publishing this post early and out of order.

Your reaction to all of this may be, What the beans is a utility dress?

Behold, my darlings, behold:


What is a utility dress? It's a fair question.

I think the "utility" label is supposed to conjure a general picture of workmen's clothes — made of cotton twill, equipped with pockets, fitted and crisp, almost always in a shade of khaki, beige, or fatigue green. There is something sharp about a man in uniform! I use "utility" interchangeably with "safari" — except for when I stop, think, and realize a description of any of my clothes as safari wear is too preposterous to be uttered aloud.**


But I think we can agree that this dress is very Mogambo, no? Almost Karen von Blixen, don't you think?


Are you wondering what, exactly, is going on here?

Well, the dress is strapless . . . but as we've discussed, strapless is verboten in Business Casual environments, unless it is layered over a top or under a jacket. So I am wearing it over a jaunty striped tee-shirt.

I had so many ideas when I saw this dress.

Again, I am torn. Do I share the ideas now? Or roll them out with photos in the future?

I can't abide a surprise. I'll tell you now! I see several more outfits: with a white linen camp shirt, dark brown sandals, and a dark brown satchel (so Karen von Blixen); with a black and white micro-striped tee-shirt and my black gladiator sandals; with a black, long-sleeved tissue tee, and backless loafers (which I do not actually have) in the fall.

Are you with me?

A few details up close.

The dress is a little big. I went with size 4. I could have buttoned myself into a 2, which would have fit more snugly through the bust, but I preferred the drape of the skirt in the size 4. So, this dress will be visiting with Fatima soon.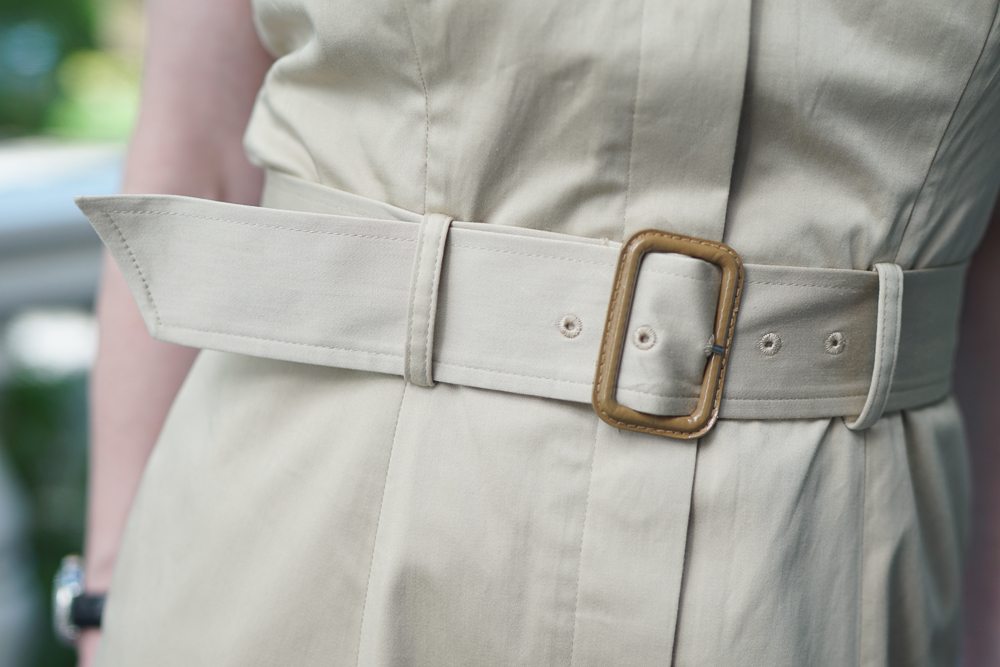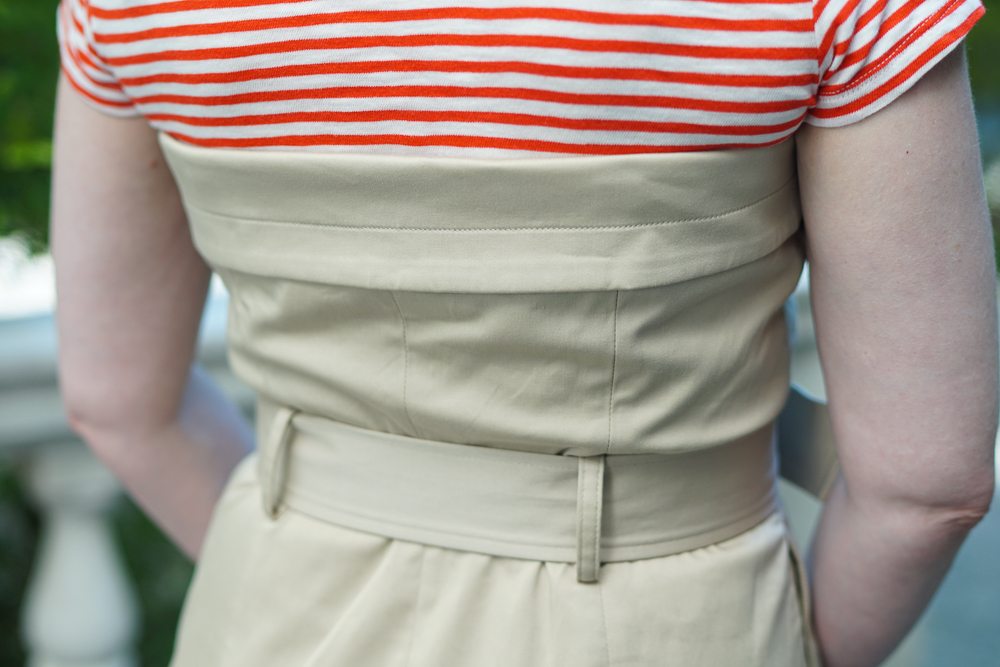 Dress: Banana Republic
Strapless Asymmetrical Utility Dress
on sale until 11:59 p.m. 7.31.17; Top: JCrew; Sandals: Aquatalia; Bag: Kate Spade; Watch: Michele CSX
* I am chuckling as I write this.
** Begging the question: Is it so much more preposterous than wearing clothes
in the style
of a mechanic's coveralls to a white-collar office job? Another fair question!