As promised, white pants into fall.

When visiting Paris in October years ago, I saw a woman wearing white jeans with a heavy weight plaid wrap jacket and Converse sneakers and thought, "Perfection!"




The image has had a long, detailed residence in my brain and here I am, several years later, offering my interpretation of her theme.

As you can see with your own eyes: heavy cotton duck pants with an earth-toned sweater and assertive loafers.



Though I would generally wear a fitted top with wide-legged pants, I have yielded to the trend of the moment — Box Over A-line. Because the sweater is so soft, I think it works.



While white and a sandy color could read Santa Fe in the Spring, I think black shoes and a dark green bag provide the seasonal anchor we need.

Although we might associate green with spring, I think this green — an almost-hunter green — reads autumn.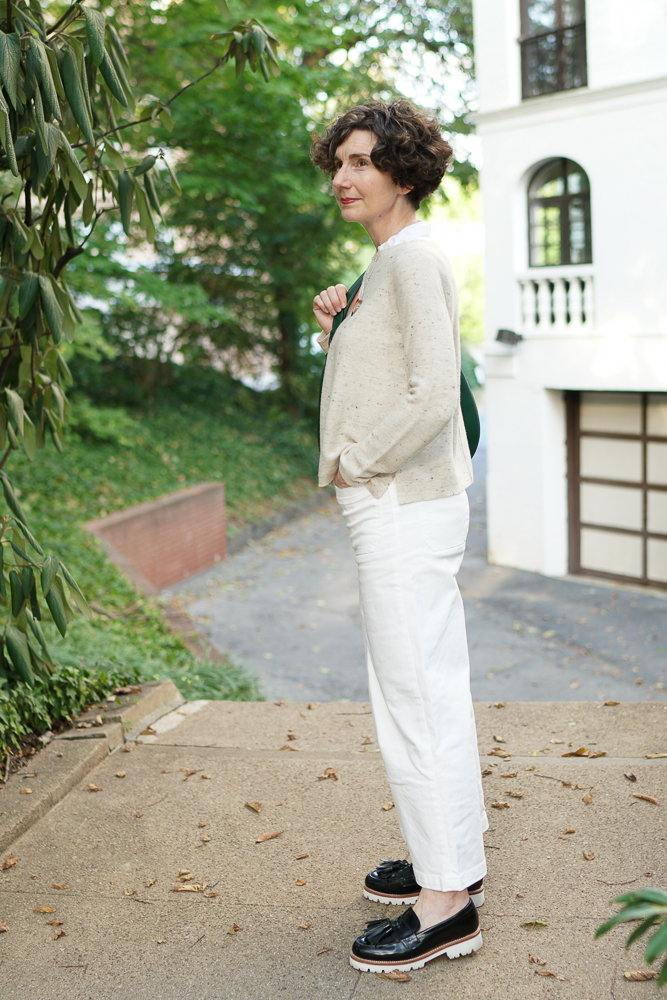 Keeping my pledge (
The Directrice Challenge
), I am wearing a necklace.
This piece is by Denisa Piatti, who you may remember from
this post
. Denisa is currently working in acrylic (with sterling silver accents) but several years ago she made this exquisite piece from horn.
It is no task to wear this necklace!
Interestingly, the weird, dark green bead necklace I wore
on Monday
is the break-out star of the new jewelry storage order. It goes with everything. I briefly considered changing the challenge to Wear This Necklace Every Day but decided that might seem strange. It will be appearing again soon, though.


Come closer and look at the beautiful craftsmanship in Denisa's work — the elaborate necklace chain and beautiful pendant mounting.
Visit Denisa's
website
and see her current projects!
Sweater: Eileen Fisher; Blouse: Jack Wills from ASOS; Pants: JCrew; Shoes: Grenson; Pendant: Denisa Piatti; Bag: Coach