A few weeks ago, I showed photos of a red sleeveless dress with two different blouses underneath.

You may remember that one of the blouses, on its own, was kind of ugly.




Take a moment to refresh your memory.



It was ugly, but I have a tender heart and like to give everyone a chance, so rather than stuffing it right back into its packaging, I opened my closet doors and held the blouse before me — like a divining rod — to see if any matches jumped out.
Look what revealed itself unto me.
The Smashing Pumpkin Dress, which you can read about in
this eponymous-ish post
.


How improbable that the colors of a blouse that I bought to wear with a red dress should look perfect with a pumpkin colored dress? Particularly when I had intended to find a silky blouse to wear under the pumpkin dress, but then lost track of that goal?

Truly a miracle!


When one thinks about the color-wheel, perhaps this was not so improbable. Red and orange do live adjacently, and red is sort of the mother of orange . . .

So perhaps this union was a highly predictable event, and only a blind manatee could have missed the pairing? You decide!


And now, a few more views of the dress.
There is one small thing that I would change if I could.
Do you see the splash of bright red at the center-back of the blouse, just above the neckline of the dress? That red is not quite right here. But the splash of red is perfect when I wear this blouse
with my red dress
. So there shall be no meddling. I will accept things as they are.



Have a fantastic weekend!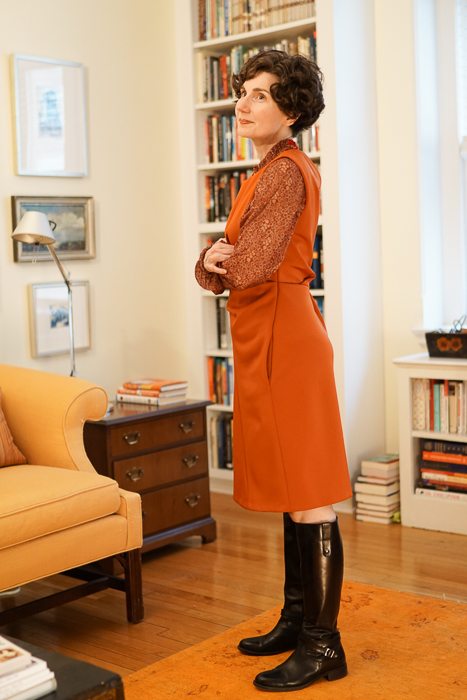 Blouse: Free People; Dress: Jil Sander; Boots: Donna Piu
* I only know this phrase from
A Charlie Brown Christmas
. I went to a Unitarian Sunday School.