It's Independence Day! I feel like the holiday weekend started Friday afternoon . . . even though I, personally, am not actually taking any vacation time. Nevertheless, it's hard to feel industrious when everyone is in and out of the office, and wearing very casual clothes.




I will be wearing more long dresses this summer. You may remember that I pioneered the maxi-dress — back in the 90s — but have never received credit for it? After a long break from the style, I am finding it very comfortable this summer.

I found this Max Mara dress on sale at MatchesFashion.com.



The allure of the modified burqa . . . I am feeling it, for weekends.

I would not wear a maxi-dress to the office. The look is somehow both too dressy (full length = evening-wear) and too casual (evening-wear during the day = insouciance) for work. I would, however, wear this striped dress to work on a Casual Friday. It is, colorably, a midi-length dress that I couldn't be bothered to shorten for my frame.

Two quick observations for today.

Observation No. 1: A maxi-dress is a chic way to cover-up. My legs are not my best feature, so I feel fine about covering them.

Observation No. 2: If you ever need a dress, for any occasion, and don't want to spend much time looking, start with Max Mara. The label is reliably stylish, well-made, and appropriate for every occasion. You won't need to buy a special bra or follow heroic laundering protocols. And, Max Mara is sold through a wide variety of retailers, which means that it generally can be found on sale mid-way through the season.



One Scorching Hot Tip: Lord & Taylor has a wide selection of Max Mara and it is deeply discounted during mid-season sales.

Now back to this specific dress. So much to appreciate: pockets, stripes, and to keep things interesting, a twist in the back.


Perhaps I spoke to soon when I disclaimed specialty undergarments. I am wearing a strapless bra here because I was too lazy to convert another bra to a Y-back configuration. But that's not a high level of specialization.

Come closer and appreciate the details.


Black sandals would look nice, but I thought a pop of red would be more fun.

This is Mendel, who passed by while we were taking pictures. Yes, he is named for Gregor Mendel, who I feel confident did not predict that his contributions to science would inspire people to name their pets after him, 300 years after his death.


To finish things off, a denim jacket (for air-conditioned environments) and a striped canvas bag (because stripes beget more stripes).

As you celebrate Independence Day, take a moment to: (1) marvel at the bravery demonstrated by the signers of the Declaration of Independence;* (2) appreciate our free and independent press; (3) rebuke any elected official who betrays the founding principles of this country by using public office to attack the media.

Have a fantastic holiday!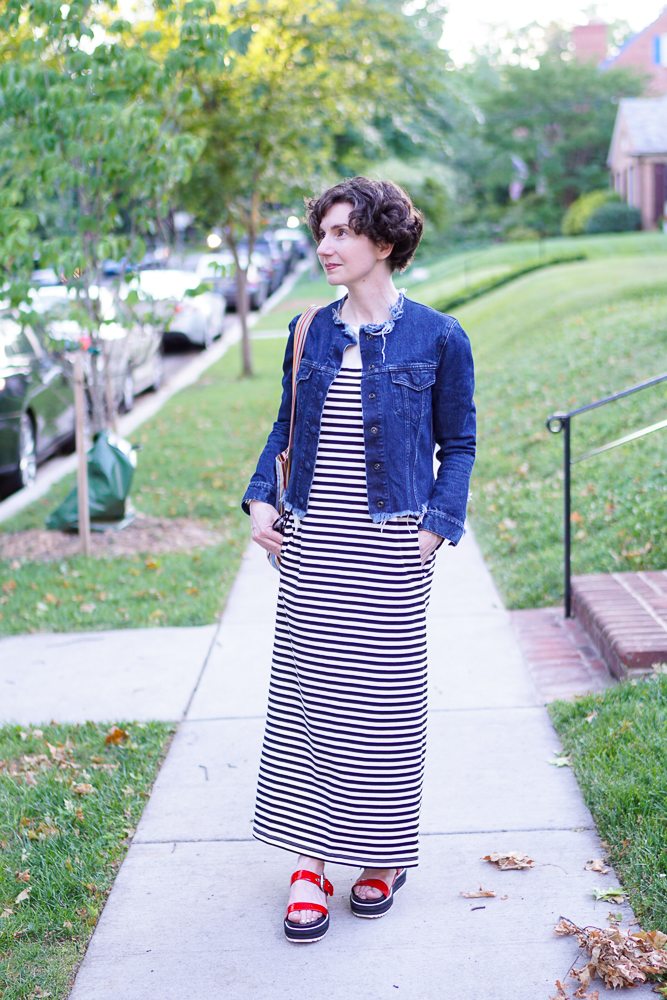 My firm always closes at 1:00 p.m. the day before any official (
i.e.
, federal) holiday. It's not a written policy, and it's not guaranteed, but it's happened without fail for the 17 years I've worked there. Isn't that a generous, and sweet, micro-benefit? It seems like a small thing, but it makes people very happy.
Dress: Max Mara: Jacket: Marques/Almeida; Shoes: Aquatalia; Bag: Les Toiles du Soleil
* For those interested in learning more about the AmRev, I recommend
Founding Brothers
and
American Creation
by Joseph Ellis. He writes
such
readable and interesting histories.