In the early days of fall, a lightweight sweater is just right for the addressing the temperature and the season. You have to hold something in reserve because this . . . Washington D.C. in October . . . is not cold.
So here I am, indexing the gauge of my sweater for temperatures in the low 60s.
Many months ago, I posted
The Man in the Grey Flannel Suit, Re-mixed
and someone asked how to combine a number of greys in one outfit. In a dereliction of duty, I failed to post a prompt response, but here's my advice. First, take note of the undertones of the greys you are considering. There are true greys (like the ones I am wearing), blue-greys, lavender-greys, and brown-greys. Ideally, when you combine greys, you are combining shades of the same grey, rather than mixing undertones. Second, it's much easier to mix two greys if one them is a tweed fabric or marled yarn rather than a straight solid.


My pants are the darkest grey. The blouse has two greys in it and the sweater matches (more or less) the lighter of those greys.
You may remember these
printed tanks
(I am wearing two, layered), last seen with navy and slate blue in the spring? Here, I am wearing them with a very soft, short-sleeved, collared blouse underneath.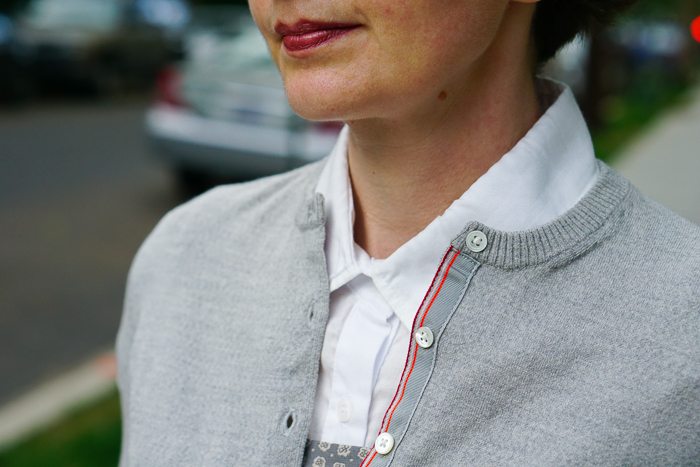 A friend of mine, who grew up in the mid-Atlantic, clerked for one of the justices on the New Hampshire Supreme Court many years ago. He broke out his winter coat in October, when his judge was only wearing a scarf and a sweater outside. The justice pulled him aside and said, kindly, "It's too early for that coat. What are you going to do in January?"
The judge was Justice Souter, shortly before he was elevated to the First Circuit, where he sat briefly before his appointment to the Supreme Court. A favorite jurist of mine! If you haven't read his beautifully expressed thoughts on constitutional law, I will add to the depth of your day by providing a link:
Beautifully Expressed Thoughts Right Here
.
Sweater: JCrew; White blouse: The Lady & The Sailor; Grey tanks: Patterson J. Kincaid; Pants: JCrew; Bag: Coach Borough Bag; Shoes: French Sole New York