For those of you seeking signs that we are returning to life as we knew it, look no further. Dress Over Pants is back.

I'm only going to the office two days a week, but was quick to make sure one of those days involved a dress — frankly, a too dressy-dress — over pants.
Feels good to be, in the words of Sal Paradise, widening the gutters and foreshortening the laws.*
A co-worker did ask if I'd made this dress and I had to laugh.
The answer is yes and no. I bought this Victoria/Victoria Beckham dress from Net-a-Porter years ago and returned it, after deciding that it was too dressy for day wear, too expensive to keep for evening wear, and too short (the deathknell) for me to wear at any time of day or for any occasion.
But after the dress was gone, I wished I'd kept it because . . . I just liked looking at it.
Flash forward 7 or 8 years: The dress appeared on The RealReal — very cheap, but too big.
I think you know what happened next. Enter Fatima.
Is it too dressy to wear to the office? Does anyone really care anymore? I don't think so. I read a story in the New York Times this weekend speculating that Zoom has re-framed the office dress code such that people are going to wear fancy jackets and tops with casual pants (including leggings and track pants) for in-person meetings. Zoom is no longer a medium or a even perspective. It's a paradigm.
While I don't think leggings are pants, I am keeping an open mind on the mixed-code model. I've been wearing my Prana action slacks with smart jackets and I think it works.
Some in the fashion industry are, however, predicting, a swing back to more structured, formal clothes. That sounds right to me. The last 100 years of fashion have swung between structure and comfort (or freedom), more often driven by economic, political, and social events than the desire for novelty or commercially-forced obsolescence.

In case you are interested in seeing the fabric(s) of this dress, we've taken some close-ups. While this may look like 9 different bands of fabric pieced together, it's not. Those bands — different colors, weaves, and textures — are in one single piece of fabric.

The top blue band appears to be decorated with running stitches like sashiko embroidery, but it's a woven effect.  The middle and bottom bands are heavily textured. The mind boggles at the sophistication of the mill that manufactured this fabric.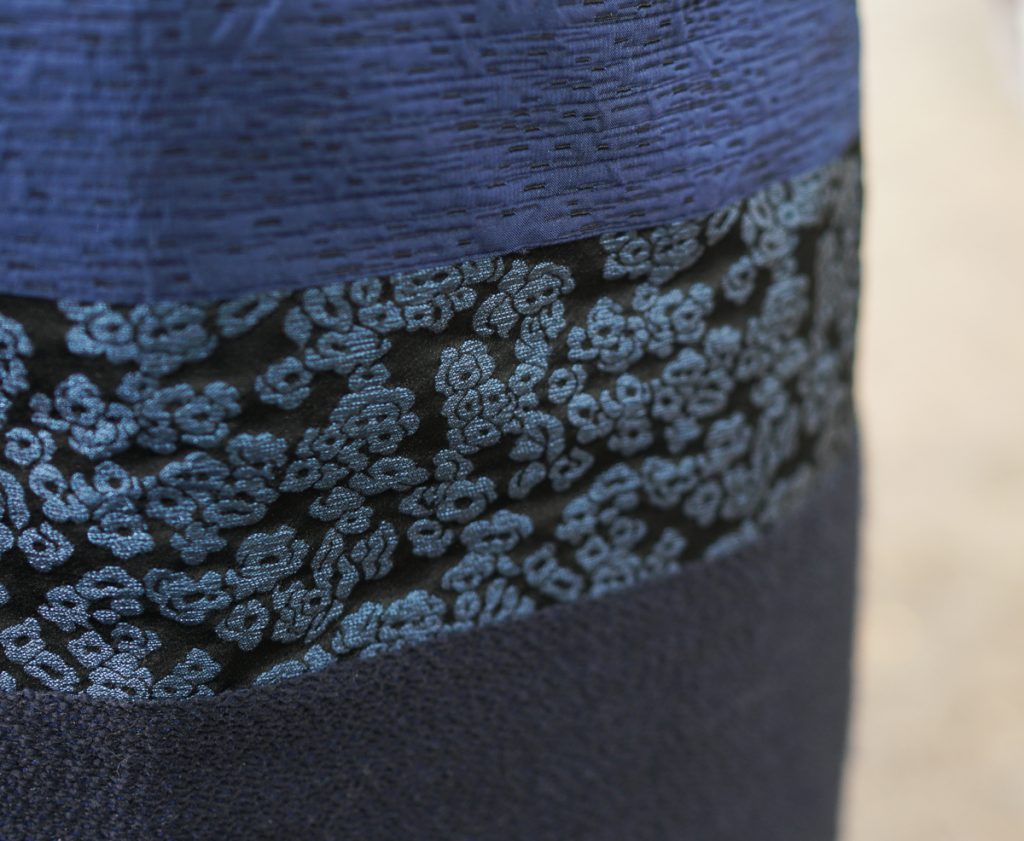 Dress: Victoria Victoria Beckham from The RealReal; Shirt: Talbots Perfect Shirt; Pants: JCrew (very, very old)
Last week's post went up very late. If you missed it, here's a link.
* Sal Paradise is describing the accommodations that Dean Moriarty will require for his visit to Denver.