Do you find that you gravitate to particular garments again and again? Have you ever realized that you could outfit a bridal party in sleeveless black dresses (or smart grey jackets) if bridal parties wore business casual?

I have.



Sometimes I chastize myself over this tendency to return to type. But generally I feel that life is too short to scold oneself over minor peccadilloes. Thusly, I cannot feel too badly about buying this 3.1 Phillip Lim top.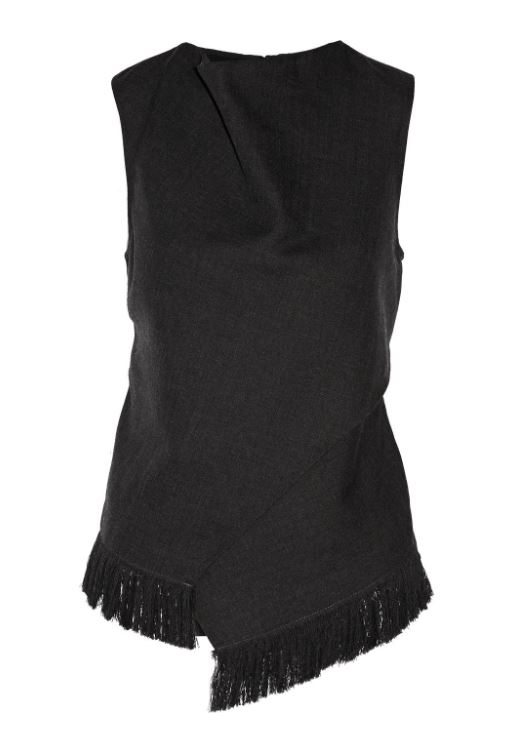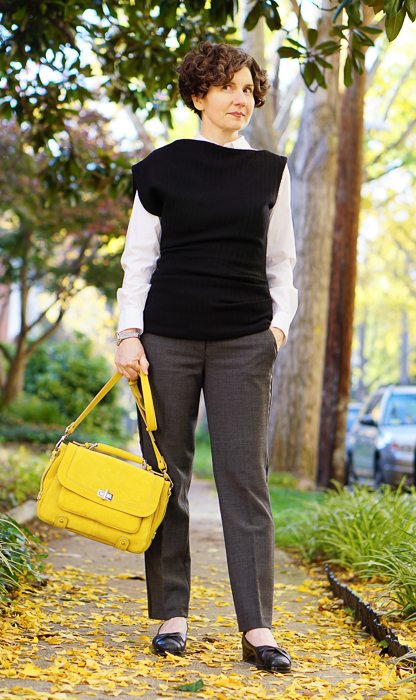 Importantly, they are not identical! The new top is a light weight wool challis and can be worn under a jacket. The old sweater is satisfyingly thick and substantial, but doesn't fit under anything.



How charming is this faux-wrap, fringed top?

For those who wonder what's going on, I am wearing it over a tissue-weight turtleneck from JCrew.

For those who are wondering where we (you, The Photographer and I) are, WE are in the foyer.

The Photographer thought we should change the background lest any of you are feeling stir-crazy on account of cold and dark weather.
In order to illuminate me (and, more importantly, my clothes), The Photographer set up a clamp light on the floor with an umbrella to diffuse the glare from the lamp.

Harper and Posy heard activity and immediately came to investigate. Both stared directly at the exposed bulb.

Cats: Prized for their beauty and company — not for common sense.
Back to business! I'll show you more of the top.
You may remember
these pants
from 2015? I wasn't wearing my glasses when I bought them and thought the tuxedo stripe running down the side was satin. The stripe is leather. This misapprehension suggests not simply a problem with my vision but a problem with
my sense of touch
.
Lesson: I bought something cooler than I intended when deprived of senses. Good news: It has been successfully drycleaned.


It might be difficult to see this feature, but the neckline is cut straight across the collarbone and drapes into an elegant cowl. Perhaps if you click on the photo to enlarge it, you will be able to see this.


Allow me to help. I will demonstrate the cowl, like so:



The neckline drapes elegantly and compactly when I am not tugging it.


APPLAUSE for The Photographer for such a fun set of pictures.

And now the best photo of the day: Posy demurs an invitation to be photographed with me.

Have a fantastic weekend!
Top: 3.1 Phillip Lim; Turtleneck: JCrew; Pants: JCrew; Shoes: Coach; Watch: Michele
*
Night Manager
Hiddleston. Not
Gathering Storm
Hiddleston.