I feel compelled to remind you periodically — and you may feel that I remind you frequently — that I do not have an endless wardrobe.




Isn't it instructive, even life-affirming, to see me re-wear things?

I think it is. But whether it is or isn't, it's happening.
It's hard to say what is the greater source of satisfaction: creating an entirely new outfit from old pieces or recreating an old outfit with new pieces.
You may remember this jacket and trousers
from 2016
. I wore them then with a printed red top. Today, I am wearing them with a white band-collared blouse and a red taffeta camisole.
The previous red top was a bluer red, a beautiful color. This camisole is an orange fiery red, which is really appealing to me right now. It looks like a flame.


An unexpected benefit of wearing the white blouse as a base layer is that it is protecting the back of my neck from the coarse fabric of the jacket, which is a little scratchy.

Reasonable minds could wonder why I was wearing a slightly scratchy jacket in the first place. Fair enough. But now it's a win-win.


For those who want to see the layering with their own two eyes, I have included a shot with the jacket undone. I would not wear the jacket undone, however.


This background is merely prelude to the main event: the brooch.


This brooch is another consignment find.

I love its essential contradictions: it's utilitarian and glamorous, simple and complex, comprehensible and absurd.
I've been wearing this pin a lot. It adds a delightful note to almost any business ensemble.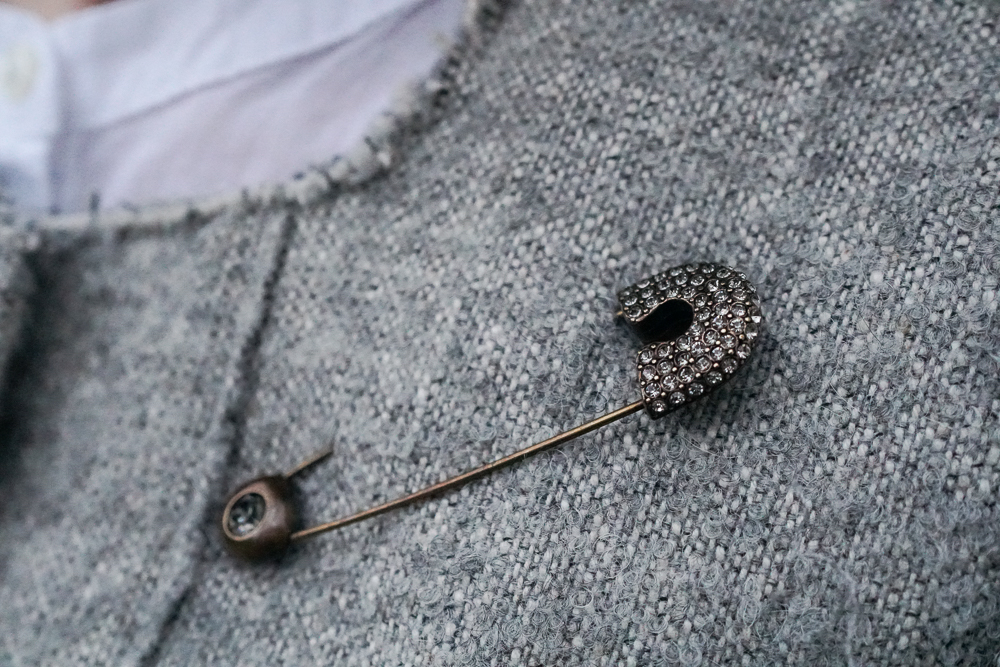 Friends: A word of warning. I am having increasing difficulty formatting these posts, which suggests to me that I am overdue for many WordPress/plug-in updates. I fear that when I attempt to bring the backend of the site up-to-date, the whole thing may collapse. Thus, I am warning you now that I may involuntarily go off-line for a few days. Cross your fingers.
Jacket: Dondup; Blouse, Camisole, Pants: JCrew; Brooch: Sonia Rykiel from The RealReal; Bag: Coach; Shoes: Taryn Rose