Oyez, oyez! Summer is over. It's fall. I'll be clearing out my summer back-catalog and moving on to fall photos soon. I am reminded: Time to ransom all the winter coats that I stored at the cleaner's. What a dull task for this weekend . . .

Before we turn to my favorite autumnal shades — and all things pumpkin spice — let's have one last jolt of electrifying weirdy green in a summer weight poplin, shall we?
We shall indeed.
I bought this dress during the summer of 2020 — I know, shockingly optimistic — because I could not resist the color.
It is supposed to be worn off-the-shoulder (actually, off one shoulder) with a flounce (bordering on valance) around the shoulders. I have styled it differently so as to be able to wear it to work . . . in my dining room. I've also worn it in my office downtown.
It's kind of bizarre, but I sort of love it? The fit is very loose and the dress slides around the body, arranging its volume into continuously shifting shapes. It's almost
alive
— the
dress
is doing
tai chi
while the body is walking or standing or typing — and there's something entertaining in that.
It's been so long since I bought this dress that I've forgotten what alterations it required. It needed to be shortened by a few inches and I think the armscyes needed to be tightened?
I may continue to tinker with the sleeves. The right armscye cuts into the chest so sharply that, depending on how the dress is moving, a bit of my bra strap shows. If anyone were to notice, I would say it's my slip. But I would be lying.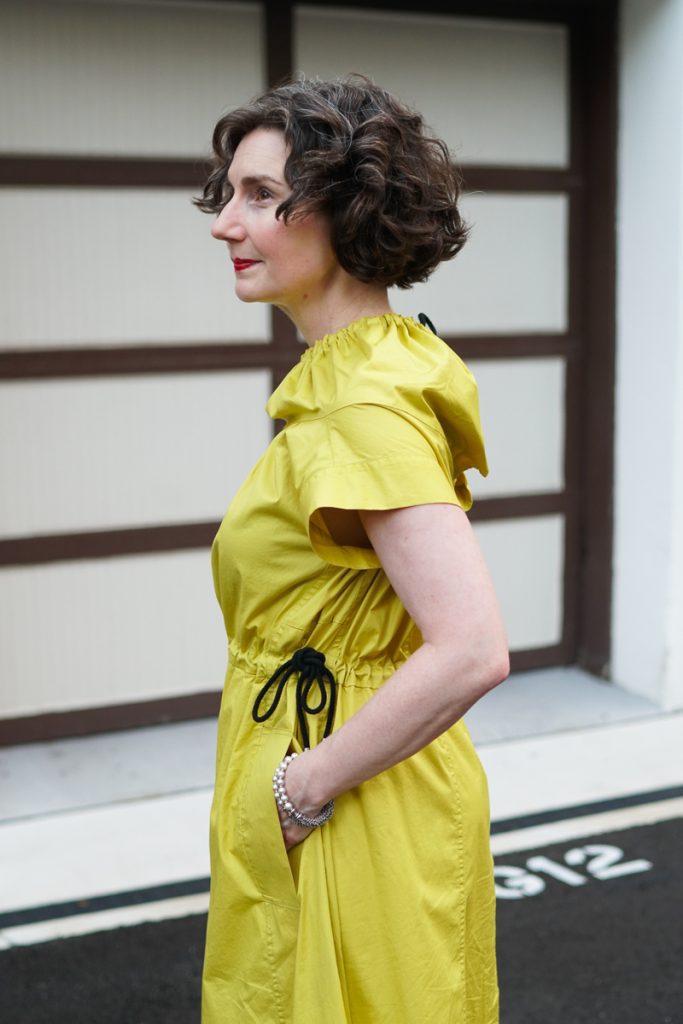 Since I gathered up the off-the-shoulder ruffle/valance and turned it into a shirred, round neckline, excess fabric drapes in the back, in the manner of a cowl.
The Photographer and Fatima were not on-board with this lazy finish. I think Fatima would have preferred to tighten and straighten out the back. The Photographer — in a rare intervention — attempted to flatten these folds.
Me? I like this unstudied, haphazard excess of fabric. But, as always, You the Jury.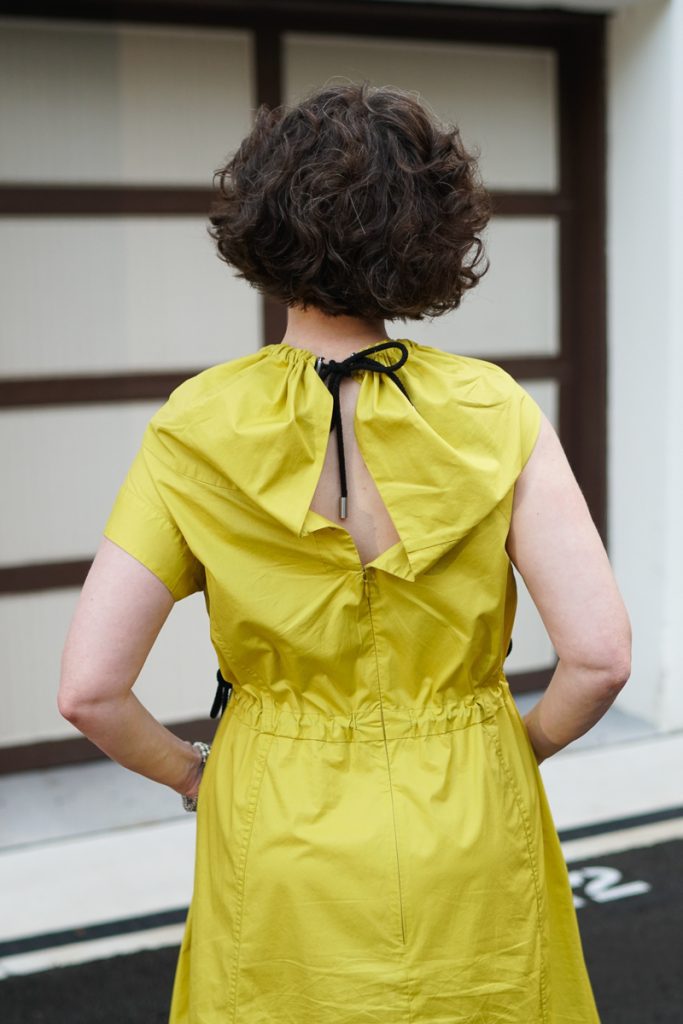 Just a reminder that Fatima is working from home, but is delighted to make house calls and office visits. When she visits my office, I put out the call to my co-workers in advance and invite them to bring in any of their clothes requiring alteration. You should do the same! You'd be surprised how many people have at least a couple of things that need fixing or adjustments. You can reach Fatima at fati.design_77@yahoo.com.
Dress: 3.1 Phillip Lim (this will almost certainly appear on The RealReal); Shoes: Rebecca Minkoff; Bag: Sophie Hume Bolt Bag; Bracelets: John Hardy