First things first: A heartfelt thank you to those who responded to Tuesday's micro-poll by posting a comment or sending me an email. Your responses were so intelligent and thoughtful; to the extent that you have been charmed by this blog, know that I am charmed by you. And for those who haven't responded yet, it's never too late to join the conversation.
I appreciate the feedback and the great ideas for future posts (acquiring a coherent collection of accessories/jewelry, big-picture thinking about the closet, continued Casual Friday/weekend outfit ideas). I also realize that I should occasionally showcase a power suit, lest you all think that I show up in court wearing a dress over a dress topped with a conversation-stopping necklace.
On to the business of the day: It's been a delightfully cool, rainy week in D.C. (I am pretending it's London.) When the weather is like this, and my schedule permits, I wear indestructible clothes: khakis and rubber soled shoes. Like this:
This outfit combines three colors that live together on the color wheel — yellow, green, and blue. The yellow and blue (two blues, actually) are intense — sunflower, cobalt and turquoise — so a mossy-green brown jacket moderates that intensity and is more sophisticated than a brighter green would be.
So what's all this then? (London!) A long-sleeved oxford shirt under a summer tank in a jacquard fabric. The tank is supposed to be worn on its own, but it's a little big for me. I think I'll have it taken in on the sides and wear it with a white skirt and sandals — but for now, it's a fun layer.


The finishing touch: the Birdy Watch from Shinola. This watchband is purportedly navy blue, but it's actually a wonderfully variable color that reads differently depending on the colors it's worn with. When worn with black or grey, it reads grey. With blues, it reads blue.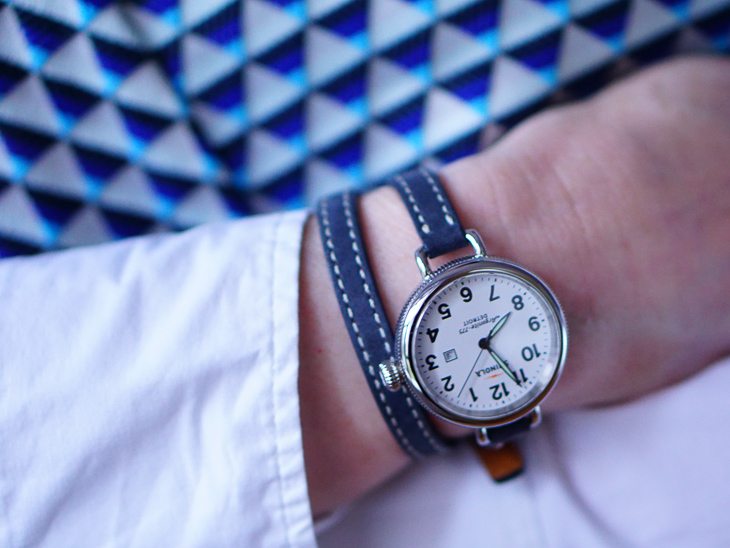 If you have been enjoying these posts, please share the site with friends on Facebook and Twitter . . . unless The Directrice is a guilty pleasure, in which case we'll keep this between you and me. Have a fantastic weekend!
Jacket: JCrew Downtown Field Jacket; Shirt: JCrew Perfect Shirt; Tank: Tiled Jacquard Top from Anthropologie; Khakis: Ann Taylor; Watch: The Birdy by Shinola; Bag: Coach Legacy Duffle in Sunflower; Shoes: Cole Haan