It may seem early in the life of this blog to be self-referential, but you may remember that I wore a Shadow Dress a few weeks ago? And have advised you to buy a dress in more one than one color if it fits you perfectly?
The ivory and grey seemed perfect for spring to me. But the superstar here is clearly the footwear.
These silver loafers are so fun. Obviously, they work well with grey; they could enliven any outfit that involves light grey trousers. But I also think they would look great with a shift or a-line shaped dress in a summery color. For some reason, I am thinking of sherbets: lemon, lime, orange, raspberry. The cut-outs are perfect for spring/summer weather because they lighten the look without being bare. Feet must be covered at the office.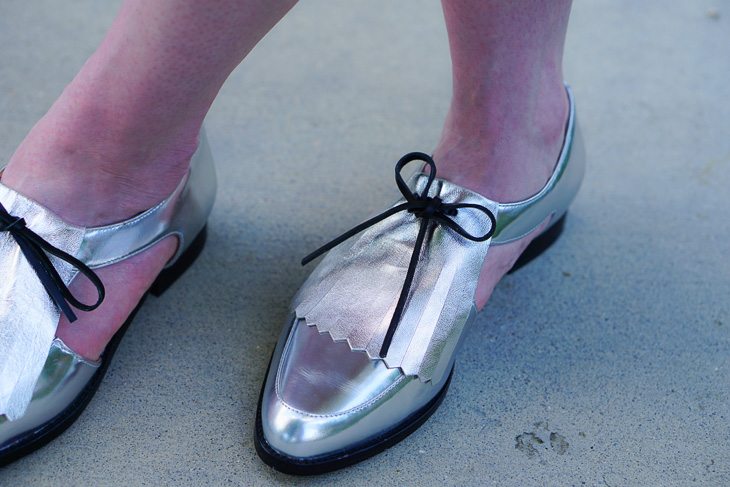 Come closer to see the details:
I did have this dress hemmed and, at the time, thought about leveling the hem, but decided to leave it asymmetrical. The bodice of this dress is looser (just a bit) than the black one, proving that even standardized garments have a little variation among them.
Have a terrific weekend!
Dress: 3.1 Phillip Lim Shadow Dress (AW2014: no longer readily available, but perhaps it will appear on YOOX or The Outnet soon); Shoes: Rebecca Minkoff Macy Cut-out Tassel Loafers; Bracelets: John Hardy; Bag: Coach Gramercy Satchel