Last Friday I had a hearing, which means I had to wear a suit and was unable to avail myself of the rights, privileges and benefits attached to Casual Friday.

I have five proper suits (i.e., a jacket and matching pants or dress) which range from workmanlike to slightly dashing (only slightly) and when I have a court appearance, I select the suit that is most fitting for the occasion based on the nature of the appearance, my role in the appearance, the judge, and the geographical location of the court. (Yes, the West Coast is a little less formal than the East Coast.)

Here's what I wore last Friday: a slightly dashing but very serious suit.
This suit is Hugo Boss but was purchased on Rue La La. It's made of fine wool gabardine and beautifully cut. It's traditional — up to a point — but interesting, feminine, and direct. It's a very no-nonsense suit.


I prefer dresses to skirts, so when I do buy a "skirt suit" I actually look for a jacket and matching dress. You may be thinking "Directrice, that dress and jacket don't match. The dress is solid and the jacket is pinstriped." Very true! But they were sold together as a suit by knowing Italians (Hugo Boss) and therefore I consider them a suit rather than separates.

Putting aside that questionable logic, the genius of the dress is that it simplifies getting dressed (no need to find a harmonizing blouse or sweater) and can be worn on its own.

And I am making a rare appearance in heels, too. My precious kitten heels must be preserved for the remainder of my working years because no one seems to make true kitten heels anymore. I thought Michele Obama's fondness for kitten heels would mean Kitten Heels for All, but that hasn't happened.

I usually don't wear jewelry to court. Don't want to seem flashy. I wear a watch and depending on the court, I have occasionally worn this little brooch, which works well with the necklines of the dress and jacket.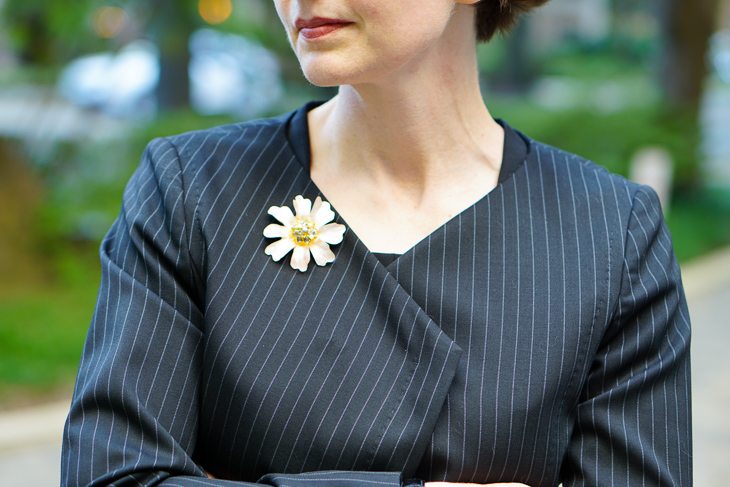 This post may not the most instructive I've written, as it is essentially pictures of me wearing an old suit, but I did want to offer photographic proof of the fact that I do own a suit and occasionally wear it for those who've been wondering.
Have a fantastic weekend!
Suit: Hugo Boss; Shoes: Kate Spade: Brooch: Alexis Bittar; Bag: Coach Gramercy Satchel