Soon it will be time to put away my beloved boots, but during the shoulder weeks between winter and true spring, they are still appropriate when worn with lighter colors.



Like so.

This is currently my favorite outfit and if it didn't seem strange, I would wear it every day until April 1. I think the boots need to be put away on March 31.
This quilted dress may look familiar; you've seen me
wearing one before
, which was black.
The black dress was found in a D.C. boutique (sadly, now closed) last spring, and prompted me to add the label (Hache) to future searches on YOOX. The very same dress, in my size, popped up on YOOX a few months later in this wonderful color — which I call "cement green."


The designer cleverly minimized the bulk of the quilted fabric by using a heavy, stretchy jersey for the backside of the dress. My black dress is black/black, but this one is cement green/dark fatigue green. Because the back was not depicted on YOOX, it was a pleasant surprise.


I ordered this jacket from Matches in January and loved it when it arrived. But I decided that I didn't really need it, and offered it to one of my law partners.

How wrong I was. During the brief period while she was considering it, the jacket became everything to me. So we ordered another and now we both have one.


Let's review some of the details.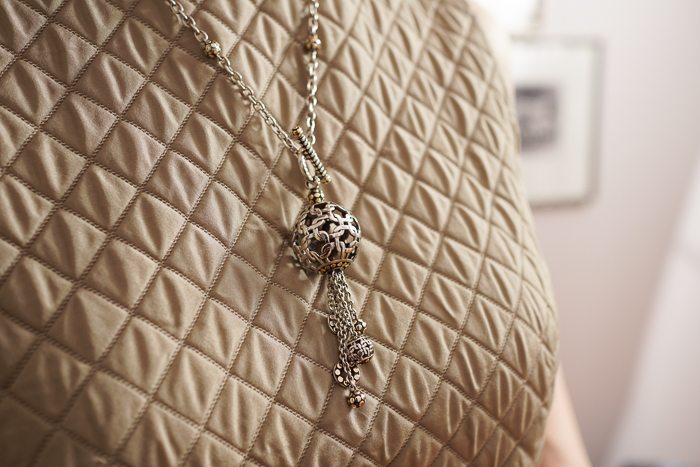 Jacket: Marques'Almeida; Dress: Hache; Boots: Donna Piu; Necklace: John Hardy; Watch: Michele; Bag: Marc by Marc Jacobs Natasha Crossbody in nylon