I am already missing Michelle Obama. I am such a fan.

I am hoping that we will see her around town more after she leaves the White House, and not less. In honor of her eight exemplary years as First Lady, all future posts in which belts play a central role shall be titled "WWMOD" or What Would Michelle Obama Do?



How charming is this blue oxford blouse tipped with black? I say: Very Charming. It is, however, charming and voluminous. Possibly, voluminous yet charming.

It's easy to manage volume with a belt, like so.


A black belt would have been a logical choice. A solid choice.

But I like this yellow-orange against the light blue field.


The voluminous yet charming blouse includes a surprise: a dip in the back. I tend to think this back is a little low for office wear. Perhaps it would be OK at the height of summer (with a white eyelet skirt?), but now that we are into fall, I think I need to cover up.
Done! That was easy!
I borrowed the jacket from my black
workaday suit
. It's a nice light wool gabardine, suitable for wear year-round. Given that it can be worn year-round, I should take it out of my closet more. I wear the suit pants frequently and if the suit isn't worn as a suit often, it does make sense to wear the jacket with some regularity so that the jacket and pants may visit the drycleaner as a couple and degrade in tandem.


I like this simple outfit, which is actually a little complex.

We have: a ruffled blouse worn belted and under a blazer. Some might say that the essential purposes of the ruffles and belt are defeated when worn under something, but I disagree. The blazer is loose enough to show the structure of the ruffles, as well as the shaping that the belt gives to the blouse. It's subtle, but glimpses of interesting things are revealed.

Uncharacteristically, I've turned back the cuffs of my blazer to show the lining. It's not really showing up in these photos, but it's a grey and white striped silk.


At this time of year, a blazer provides enough warmth for cooler mornings and evenings while sparing me the trouble of carrying a trenchcoat.

Perhaps I am a little chilly when walking to Metro early in the morning.

What to do? What to do?


We're back in scarf weather, my wheelhouse.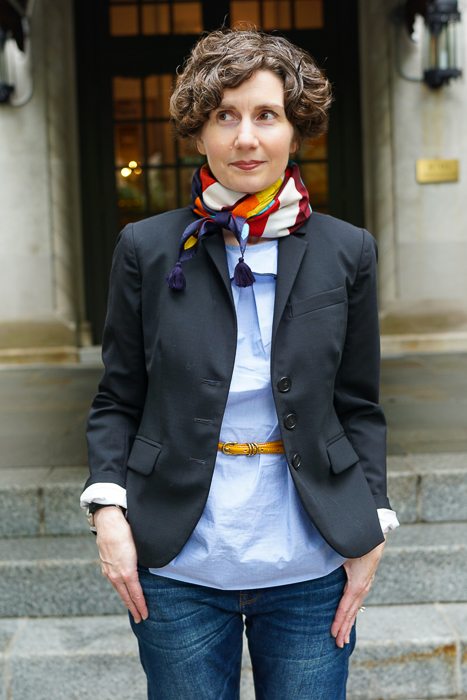 Do you remember
this scarf
? None of the colors in the scarf matches any of the colors I am wearing (except black),
yet it works
. The robin's egg blue in the scarf
relates
to the blue of the blouse; the lemon yellow in the scarf
relates
to the gold belt.

I love this black suede bag, but I've been noticing a little color transfer from the bag to my fingertips. If that's what I've noticed, it's probably coming off on my clothes, too. I mentioned it to my tailor and she tells me she has a fix. It involves wax and steam. I am extremely excited to learn about this process, which I am ready to trademark in her name: Fatimalizing!

She tells me that color transfer is an issue with suede unless it is treated in some manner. Have you experienced this problem? I assume that a waterproofing treatment would also prevent color transfer.
Everything is old and from JCrew, except . . . Blouse: JCrew
Ruffle Top in End-on-End Cotton
; Scarf: Tory Burch; Bag: Marni; Shoes: Lazio Collezione