Several weeks ago, I declared white dresses to be the essence of summer. No one expressly contradicted me (your silence, as always, was taken as tacit agreement), so here I am, back with another white dress.


White dresses come in many fabrics and styles; my preference is for linen and cotton ones that can withstand vigorous laundering because some effort is required to keep whites white during the season of frozen custard (chocolate, of course), barbecue sauce, and sunscreen.
This tiered dress is linen. Tier upon tier of linen, which I put in the hands of the drycleaner for pressing.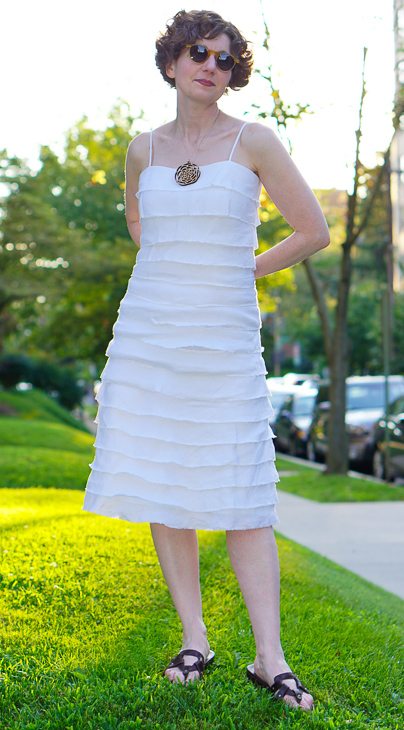 Perhaps you're thinking, "Directrice, have you lost your mind? You can't wear that strappy dress to work!"



Don't you know me at all?


I have a plan.


If you were going to take me to task about anything, it should be my shoes, which are totally not suitable for work. But on a mid-summer Friday in Washington D.C., no one cares.
If my necklace piqued your interest above, come closer for a better look. This necklace is by Daphne Olive, a D.C. designer whose work is sold at Tabletop on Dupont Circle. She works in precious metals, enameled metals, and wood. I think the material (wood) and shape (zinnia) provide just the right embellishment for a natural linen dress and the earth tones of my jacket and shoes.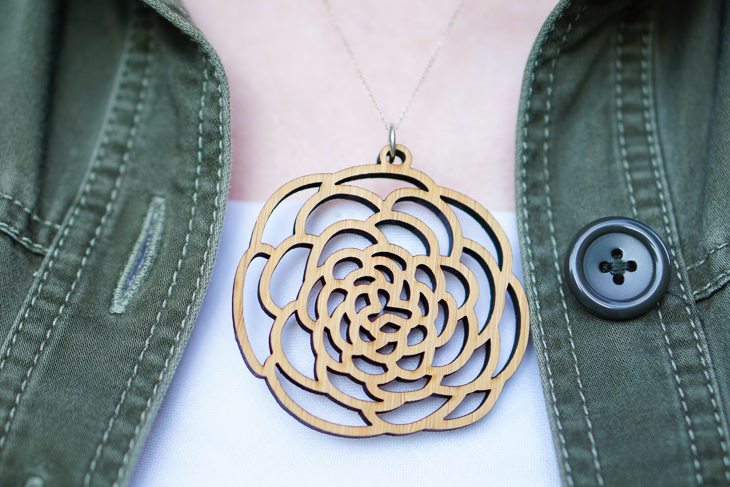 I am carrying my
pale pink bag
, for a little contrast, but camel, bottle green or dark brown would work equally well.
If you are looking for a white dress, I made some suggestions in The Woman in White. If you are looking for a safari-style jacket, I've made some recommendations in Spring Is Bustin' Out All Over. Pay attention to the sleeves on the Brema jackets; you'll want one of the styles that doesn't have the Brema name stitched on the sleeves. Personally, I would like to see JCrew re-issue my jacket, in Petite and Regular sizing; if you feel the same way, please send JCrew an email (contactus@jcrew.com) and include a picture of the jacket!
Have a fantastic weekend!
Dress: JCrew; Jacket: JCrew; Shoes: Timberland; Bag: Tory Burch Small York Buckle Tote in Pale Oak; Necklace: Daphne Olive; Sunglasses: Illesteva Marco in Blond/Light Tortoise