Smocking is indisputably adorable in children's clothes, but I love the effect in women's summer clothes, too.



Behold the winsome smocked blouse.
I came across this blouse while looking for
black blouses
(for all of you!) several weeks ago and decided to try it in a light color. This blouse is a creamy color which was sold as "beige" but which I would characterize as a pale, pale apricot.



The best part of the blouse (and you must be wondering, What could be better than the smocking, Directrice?) is the tie closure in the back. Why red and white stripes? I have no idea — but it's fun. While the back of this blouse is open, a similar effect could be achieved with any keyhole closure, if you sew.

I tried a dozen times, without success, to tie this square knot while wearing the blouse. Eventually I had to take the blouse off, lay it flat on the bed and tie the knot there.
This blouse is made of gauzy cotton (actually, 72% cotton, 28% silk) — two layers — and is a little too full. I think I may have it taken in, down the sides, a couple of inches.

The deep v in the back is permissible for work (I think), but for warmth and added modesty, I do have a jacket handy. The jacket is ivory which provides a subtle, light contrast. This jacket has contrast top-stitching, which (oddly enough) happens to be very close to the color of the blouse.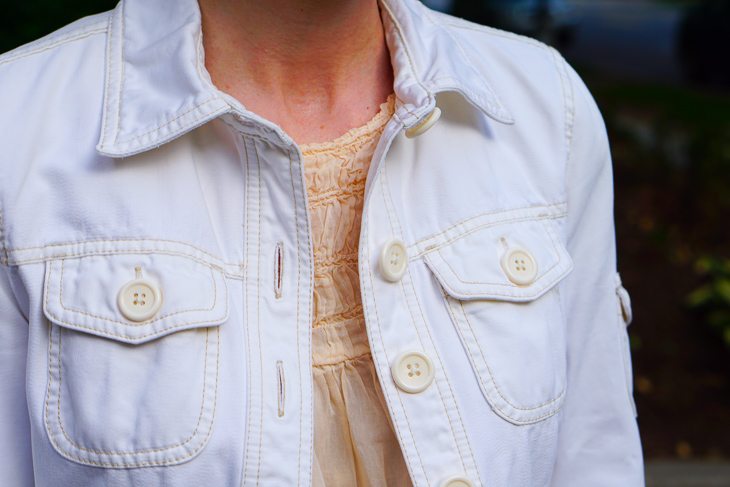 I've had this jacket for years and last summer the collar began to fray close the neckline. I brought it to my fantastic tailor (Fatima at Bespoke Tailoring) and she flipped it for me — not a costly alteration, but one that will add years to the life of this beloved jacket.
Blouse:
Suoli
from YOOX; Jacket: JCrew; Jeans: Lucky Brand; Bag: Les Toiles du Soleil
Marin Orange Tote
; Shoes: French Sole New York