The question of what constitutes "business casual" is a rich topic for the legal and business press. Google the term and you'll see a lot of ink (print and digital) devoted to the subject. When that many views need to be harmonized, it's time for a Restatement!
The Origins of Business Casual
In the beginning, there was only Business Attire. If your workplace didn't provide a uniform, you were wearing a suit, which means (for those of you born after 1990) a – jacket & pants (or jacket & skirt) made from the same fabric.
In the mid to late 1990s, two lines of revised business dress – both called Business Casual — grew from this origin. One line of Business Casual, which I'll call Stringent Casual, is nearly as repressive as Business Attire, requiring the wearing of a jacket – a sport coat or blazer – with dress slacks, a dress, or a skirt. This code is, however, generally permissive enough to permit the wearing of an elegant sweater or a fancy top (for women) in lieu of a jacket. The other line, which I'll call Lax Casual, only requires a shirt with a hard collar.
Here, I must note that the difference between Stringent and Lax is almost a distinction without a difference for women. While a man gets to shed his tie under the Stringent Casual regime, women are still wearing jacket and skirt (or pants); they're just made from different fabrics. And while men flourish under Lax Casual, it's a hollow gesture toward women: men might be content exploring the full spectrum of khaki, but women aren't going to wear the same pair of pants every day for 30 years.
Some workplaces subsequently progressed (or devolved) to an even more relaxed code, Casual Dress, under which jeans can be worn. Many workplaces, including mine, have a hybrid code, under which Business Casual is in effect Monday through Thursday and Casual Dress reigns on Friday.
[1]
The right to be especially dressed down on Fridays is considered by many
inviolable
, and when a federal holiday falls on a Friday, the preceding Thursday is construed as a Friday (a constructive Friday) and jeans are worn then.
Business Casual: Theory and Application
Here are the principles I have distilled from a desultory trip through the literature.
If you are wearking a jacket (or sportcoat), you are fine.
Garments that require dry-cleaning are almost always appropriate for the office, unless they shine or sparkle.
If you are wearing garments that don't require dry-cleaning, but do require ironing . . . well, they should be ironed. (Sorry.)
If you are wearing something that you would wear to meet your prospective in-laws for the first time, you are probably dressed appropriately.
You are probably not dressed appropriately if you are wearing clothes that you would also wear for: (a) sleeping; (b) yardwork; (c) clubbing.
The bright-line rules, which can never be transgressed:
Of the extremities (I mean your limbs), don't show too much: nothing strapless, no spaghetti straps, no one-shouldered tops, no mini-skirts.
No midriff-baring.
No transparent or see-through fabrics, unless they are worn over opaque fabrics that provide coverage consistent with the rules above.
No legible clothing.
And now the unwritten portion of the dress code: The way you dress depends in part upon your position and seniority in your office. In a law firm, for instance, no one expects a 23-year old paralegal to dress like a 30-year old associate or a 45-year old partner. (The reverse is also true; no one expects a 45 year old partner to dress like a 23-year old paralegal.) Moreover, the way you dress will also vary a little from day-to-day, depending on what's on your calendar.
Perhaps at this point I have raised more questions than I've answered?
Let's take a step back and gain some perspective: a code is a set of rules intended to implement a policy in furtherance of a defined goal. And as with any legal analysis, it is often helpful to understand the purpose behind the rule before deciding if the rule has been violated.
The goal of the dress code is to achieve a workplace that looks professional, inspires the confidence of clients, and is uniformly welcoming to employees and visitors.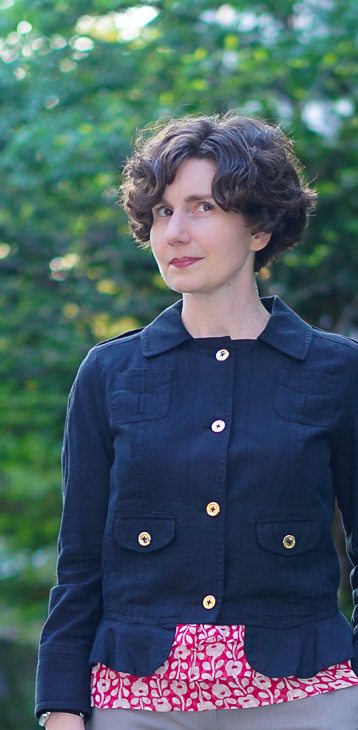 So the real question is: Are your clothes conveying an appropriate measure of maturity, authority and discretion? Interestingly, you needn't be stylish . . . that's your choice!

Jacket: Juicy Couture; Blouse: Marc by Marc Jacobs; Pants: JCrew; Shoes: French Sole New York; Bag: Coach Gramercy Satchel; Intelligence-bestowing glasses: L.A. Eyeworks ("Tom") from Insight Opticians