I went through all of my summer clothes on Memorial Day weekend to figure out what needed discarding, repairing, replacing, and wearing.

Good news! I got rid of a few things, decided that I could revive a few neglected items by pairing them with interesting belts, and realized that I didn't need anything, but could justifiably look for a casual white dress (to replace one that just seems too short to me now*) and a serious, on-the-level work dress.**




In case you are wondering what I mean by "a serious, on-the-level work dress" — I guess I mean an impeccable knee-length, cap-sleeved or sleeveless dress that I could wear to an important work meeting. No whimsical bulges, errant seams, or displaced buttons.

While looking for the serious dress, I found this charming top which says Wall Street Nun to me.

What does it say to you?
I haven't worn a collar this big since
this sweater
.
So much to love here: world's largest platter collar, asymmetry, stripes, buckles.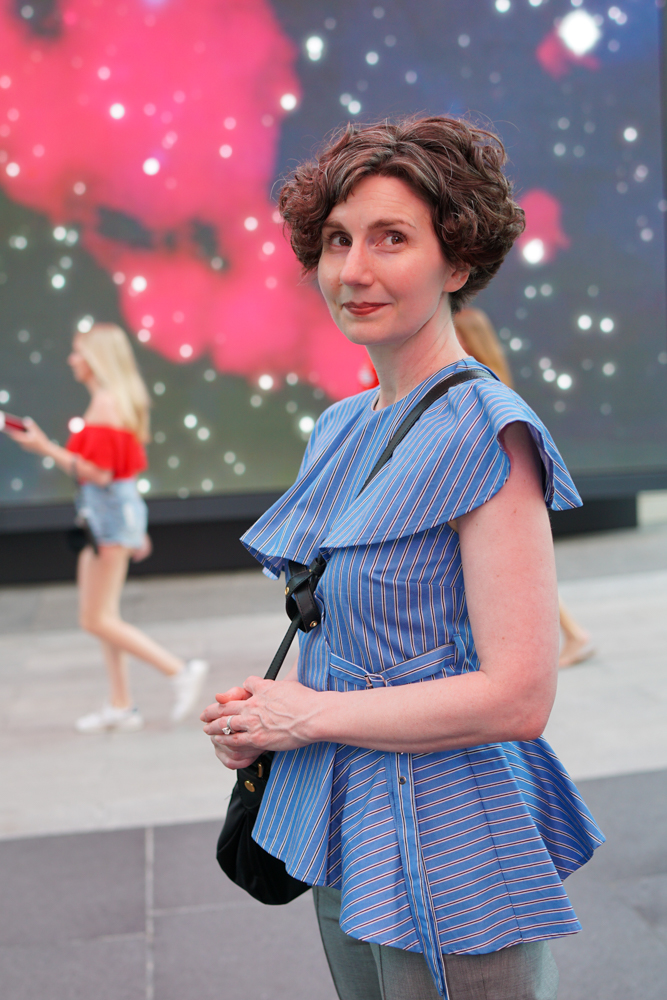 And though I have no way to show you this, the stripes appear to be black and white on blue when I am wearing my glasses, but they look yellow when I am not wearing my glasses.
As a result, I am hosting a vicious, internal debate — not unlike
The Dress
that tore the Internet apart in 2015. Is it black or yellow?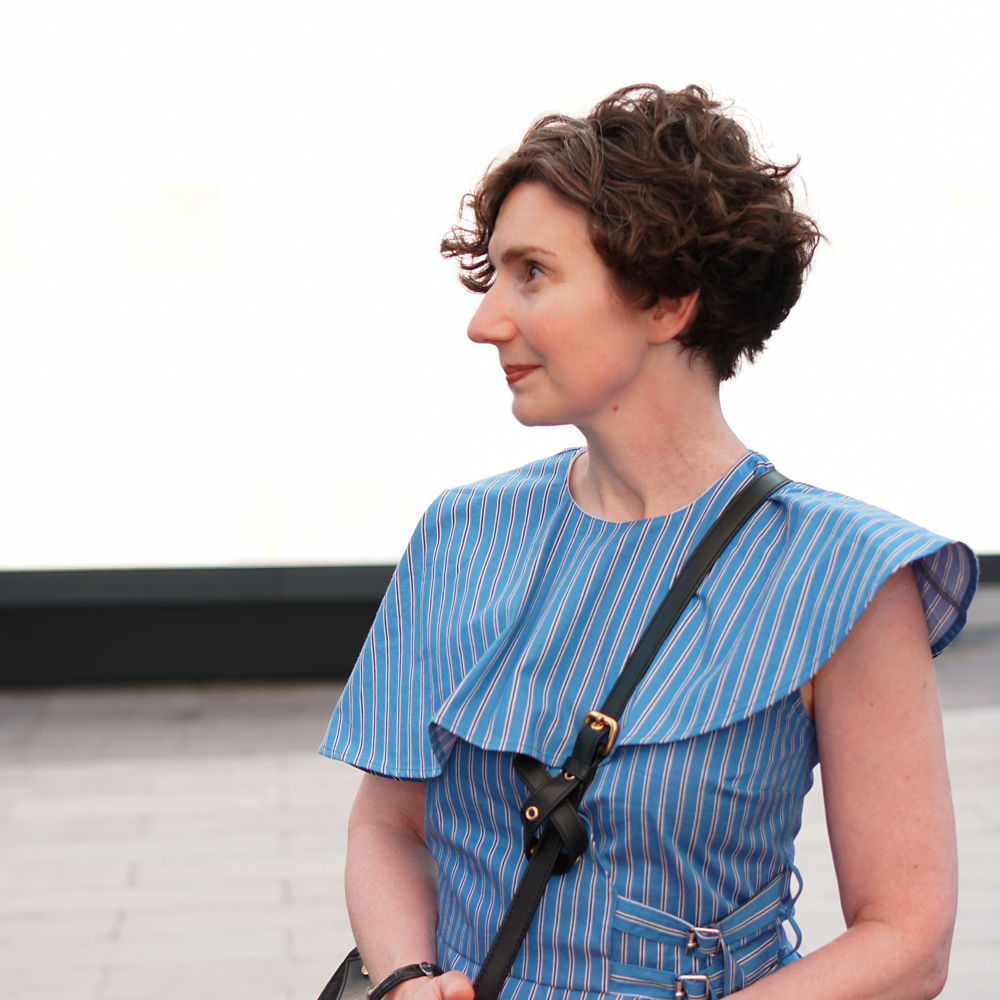 Fortunately some of the details — like these buckles — require no interpretation.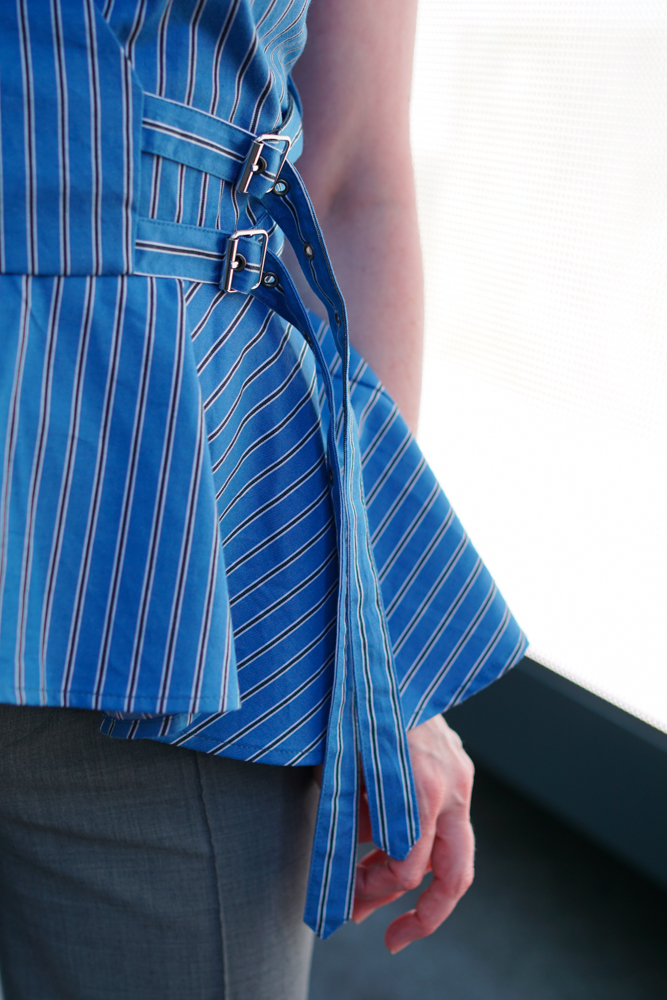 We took these photos at City Center several hours before the Capitals won the Stanley Cup. I am hoping the cup will be on display at the Verizon Center.

Even before the game had started, drunk celebrants were moving into position at Metro Center. I watched a sunburned man holding a beer bottle puzzle over the control buttons on an outdoor elevator for a long period of time. Was it the sun, or the beer, or the combination?

We've cropped the drunk Caps fans from these photos, but thought you would like the beach balls strung above the pedestrian walk.


Before heading home, The Photographer and I stopped by my office. He was very taken with my office clock — hung above my monitor — which has an erasable, white-board face.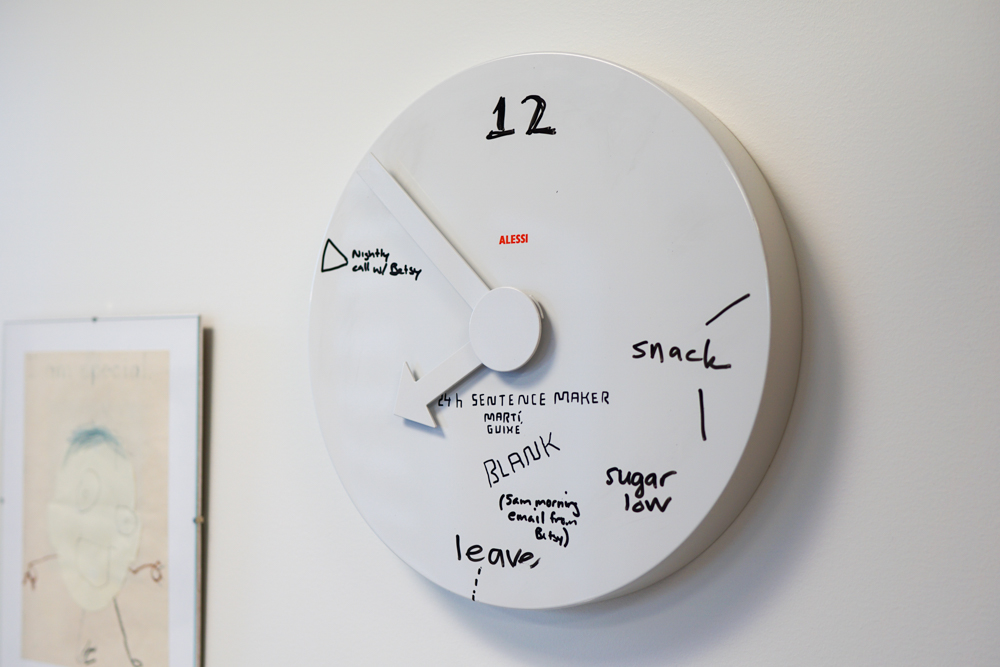 Top: Sea; Pants; JCrew; Shoes: Rebecca Minkoff; Bag: Marc by Marc Jacobs; Watch: Michele Serein 16; Bracelets that I forgot to wear:
David Yurman
* Nothing I say or do provokes more comments than when I announce
my dress is too short
. Or that my jeans are too skinny. I love you for for encouraging me to wear
shorter
skirts and
tighter
jeans . . . even though I won't do it.
** Athough I love them, these are not
on-the-level
work dresses: summer
DoP
;
Marni
;
Utility
.