As I mentioned in a recent post, one of my old summer dresses struck me as too short when I tried it on this spring. This one. So it shall be retired.




I went back to the source (JCrew!) to look for another white dress and found this charming one:
I wasn't sure, at first glance, that this geometric eyelet would work, but it quickly grew on me.
I was also concerned about the unlined yoke, but after trying the dress on and wearing it to work, I think that it provides adequate coverage for the workplace.



Having established that this dress is charming and appropriate for work, this post now becomes a free advertisement (earned media) for JCrew. The dress comes in three colors — poppy red, white, and navy blue — and regular and petite sizing. And it's on sale: 30% off right now.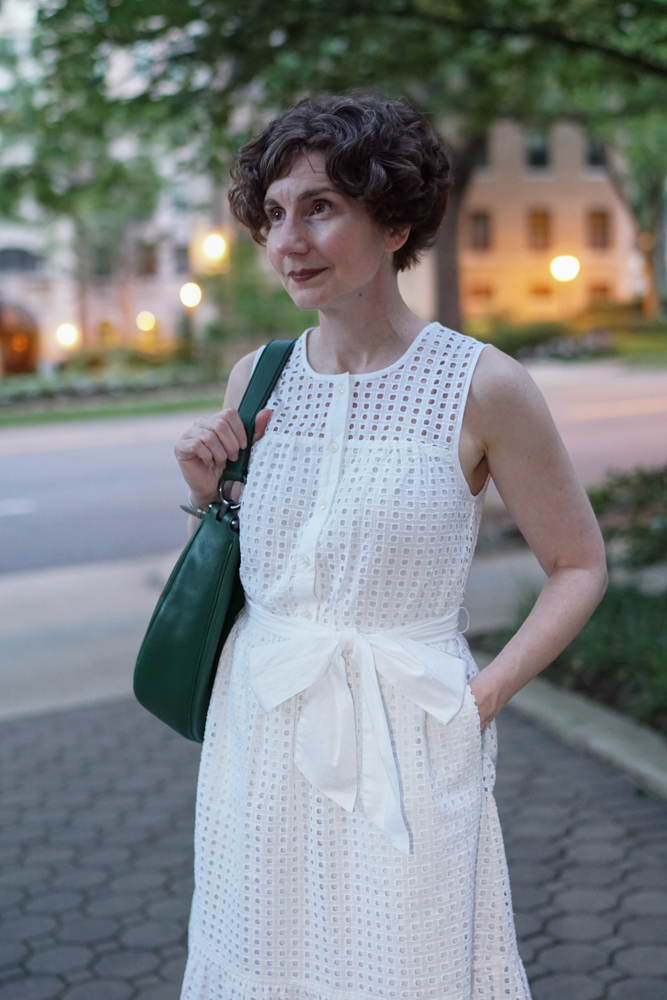 While everything goes with white, I tend to wear it with red or navy. For a change, I thought emerald green would be crisp and pretty.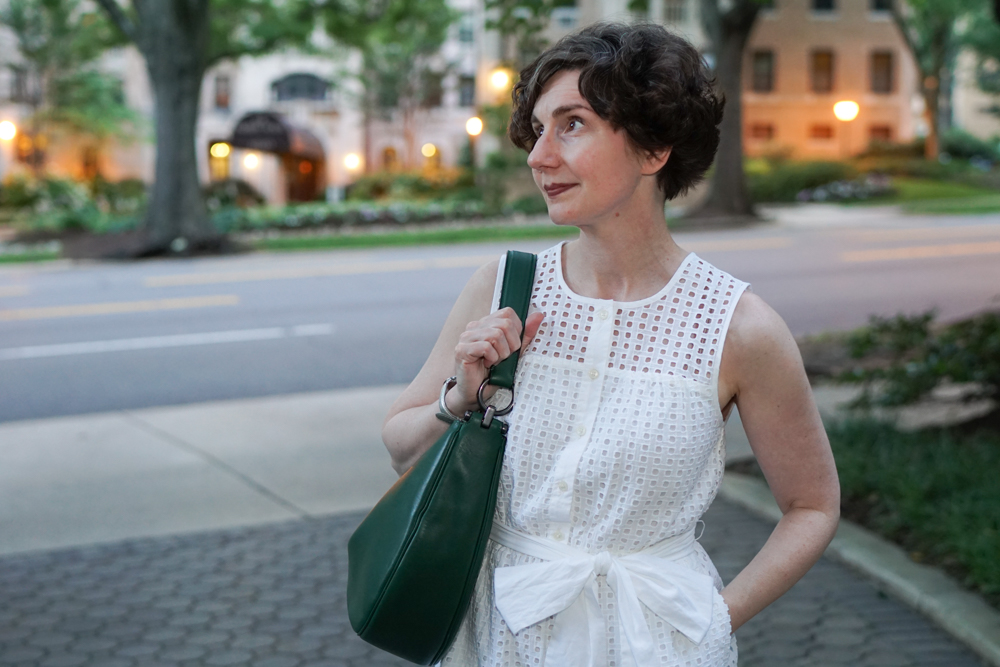 The summer dress code includes a prohibition on pants — by any name including, but not limited to, capris, pedal pushers, and clam diggers (the list is long) — that fall above the _____________. There is a missing word. I assume the missing word is "knee" but I'll never ask. I don't want to know. Surely it's not "ankle"?


This bag holds a lot: wallet, phone, sunglasses, two pairs of reading glasses, 20 pens (because 19 of them might run dry at the same time), band-aids, tissues, earbuds, chargers, atlas, cosmetics, can opener.
I love these flats, yet hardly ever wear them. They don't go with everything, but they probably could go with much more than I've attempted. For instance, they would look very cute with
these khakis
and
this top
.
Many cute dresses on the JCrew website! Try
this sleeveless denim one
(for the weekend or maybe Casual Friday) or
this paisley floral
(with a jacket in the office).
Have a fantastic weekend!
Dress: JCrew
All-over Eyelet Dress
; Shoes: JCrew; Bag: Coach; Watch: Michele Serein 16