Hello Directorate! Here we are in another shoulder season, trying to figure out how to dress when the temperature and date are not wholly in sync.

If I am being totally honest, this outfit is more summer-to-fall than winter-to-spring — but I forgot to show it to you during the fall, so you are seeing it now.
It reads fall, in part because of the colors — black, grey — and the weight of the fabric — which is a cozy synthetic that feels like delicious wool. But more than anything, a jumper says BACK TO SCHOOL to me.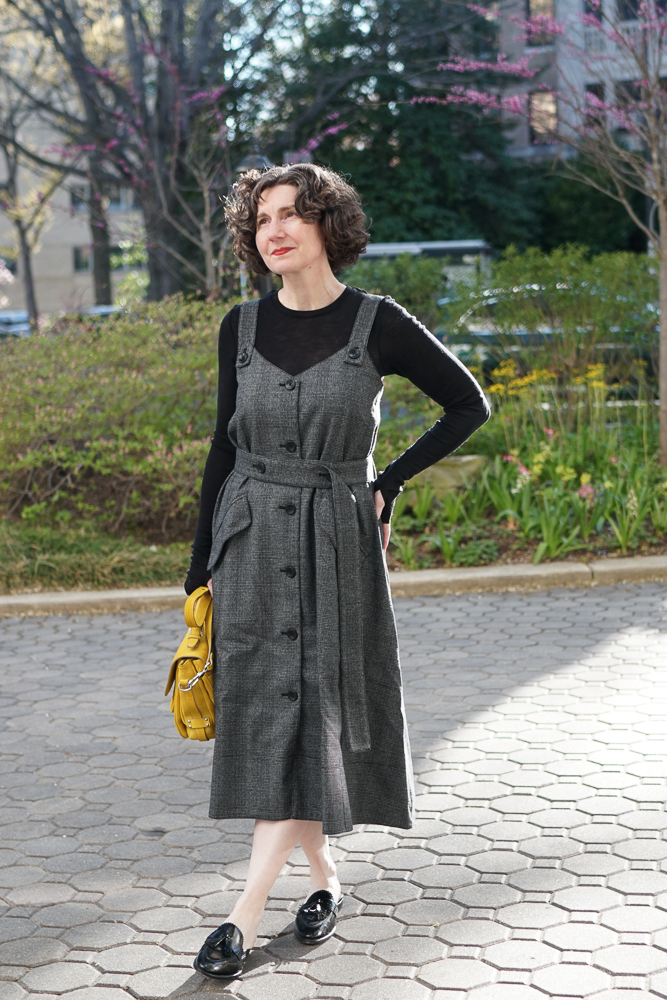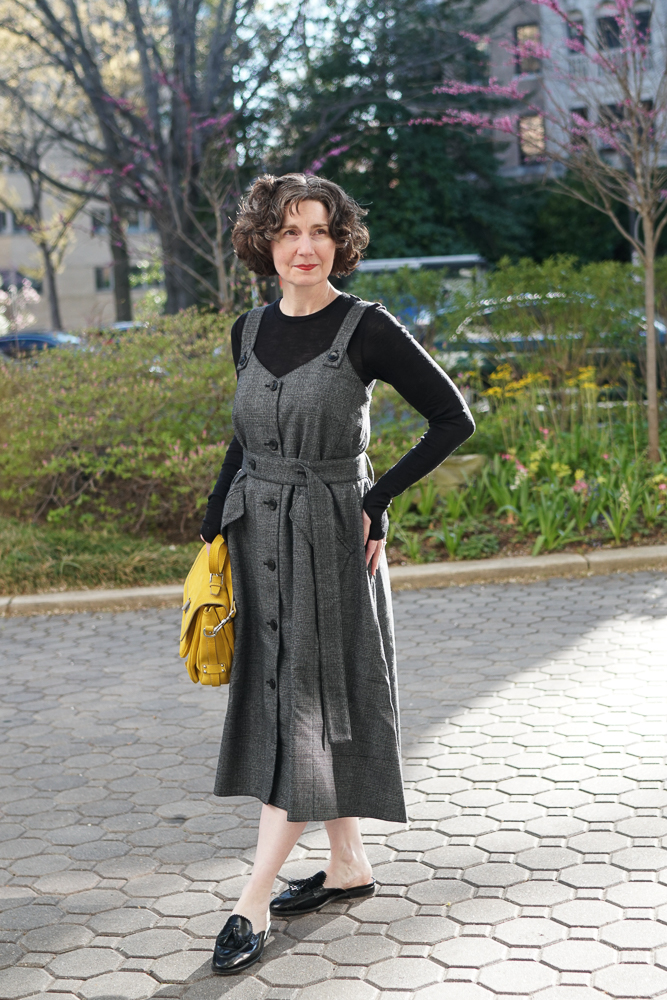 I bought this dress on final sale (i.e., non-returnable) last year and due to wild inconsistencies in the label's sizing, wound up with a garment 2 or 3 sizes too big for me. It was intended to be loose, but even after reducing the circumference by 4 or 5 inches, it is still very loose on me. Too loose? Regardless, I like it.

Given the loose, I mean directional, fit, I think this dress either needs to be worn with bare legs and mules (as I've done here) or with black tights and combat boots. I think a regular flat or pump would read frumpy.
I've worn it with a crisp white men's style shirt underneath, but here I am showing it with a fine black merino wool jersey from COS — so fine that it is almost sheer. Note: COS makes very nice wool jerseys and other basics — in addition to the periodic, directional garment of genius.
This sleeves are extra long and include thumbholes for an elegant touch, but could easily be scrunched or rolled.
All these dark neutrals need a jolt of color, no?
Fortunately, I seem to have a yellow bag for every occasion. Here, that's a worky satchel.
And now a break from our usual conceptual programming to provide a few random shopping tips.
I'm organizing my spring and summer clothes and thought you might be, too.

I was looking for a needle in a haystack on The RealReal last weekend and saw a few things that I thought might interest you.
I saw two of this Marissa Webb vest,first seen here in 2017. Run, don't walk, to The RealReal if you've been hankering for this vest for 6 years. One word of caution: the fabric, for some reason, has not held the dye well. It's a little faded in a way that I would not have expected for a garment of this style at the original retail price point. But I still love it, wear it, and am glad that I bought it.
I also saw three of this Ganni top, which is — unreservedly — one of my favorite layering pieces.
It was last seen here in 2019, but has had plenty of use in the past few years. Always draws compliments! Can also be worn as a tank with nothing underneath.
The Internet also told me that the Somerset dress is back at Anthropologie for summer 2023 in new prints.
If I had any need, whatsoever, for a new summer dress, I would buy one of these great graphic prints.
As far as I know, only one of you listened to me when I told all of you to buy this dress last summer and she was very glad that she did.
Last but not least, for your spring/summer vacation wardrobe capsule, check out this dress from Talbots. My attempts to add a photo here failed, so click on the link. Three-quarter sleeves in lightweight cotton lawn are perfect for sight-seeing in the summer. I'm not saying it will provide perfect UV protection — it's not a synthetic rash-guard! — but the sleeves will cover the shoulders and the print will hide messy sunscreen application. I plan to add a button at the neckline because I am, at core, a buttoned-up person. This dress comes in other prints, too. Wear with white Doc Martens, platform Supergas, or Converse high-tops. Instruction done!