I turned 48 earlier this month and bought myself a little present — a little something special — to celebrate.


It's so me . . . but the very best version of me, no?

If I look a little different in these photos, there are three reasons.

First, I am older.

Second, I didn't wash my hair; it's the weekend and you are witnessing a rare outdoor appearance of Directrice bed-head. I am counting on the majesty of the vest to make up for personal deficiencies.

Third, it is freezing and windy; I am stiff with cold and my misshapen hair is tempest-toss'd.

As we've previously discussed, I have a
type
.
This clever vest fits the type, but is unusually fun. I think it will work equally well with casual clothes (jeans or khakis) as it does with grey flannel.


I think we need to take a closer look.
We need to take walk around this. Unfortunately, you can't move; you're just stuck there, looking at this screen. You sit tight and I'll turn.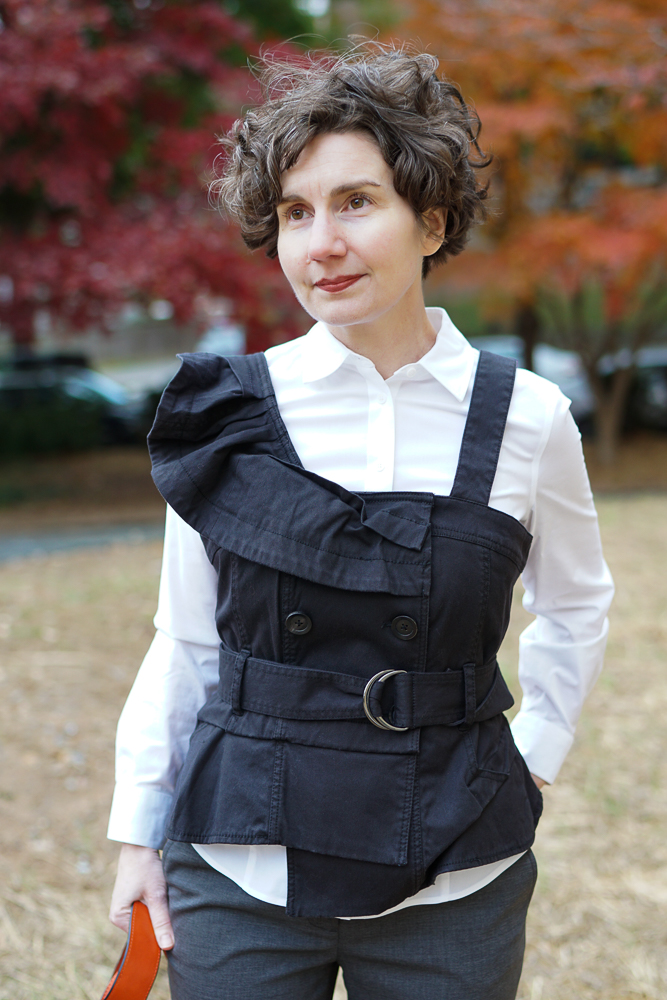 As you must have noted, lots of asymmetry here.

This vest is a little too big for me. It needs to be taken in an inch through the bust (which can be done along the side seams) and the strap needs to be shortened by two inches. I think I can leave the ruffle alone.


I don't often show outerwear, but thought you might enjoy this coat and bag combination: my burnt orange coat and bittersweet bag.

I like a colorful coat in the winter; paired with a bag in the same tone (different intensity) it's genius.

Vest: Marissa Webb
Lynette Vest
*; Shirt: Talbots; Pants: JCrew; Bag: Tory Burch; Coat: JCrew; Shoes: Taryn Rose
*Warning: Although I do not think that Marissa Webb generally runs small, I am wearing a size Large here. I ordered a Small and it was way too small; I may have overcompensated with the Large. Actual measurements are provided on the website, which is very helpful; I should have paid closer attention when making my first order. If you buy something from the Marissa Webb website, do take advantage of the offer for 15% off your first purchase.