Turquoise!

Turquoise is one of my favorite stones. While it can be easily overdone, done right it is beautiful, compelling, and chic.

How to tell when turquoise is done right?




I have no bright line test for you, but I think that turquoise is most effective when it is: (1) presented in a manageable portion; (2) is not compromised by excessive precious metal framing; and (3) is set off against a flattering color.



Put another way, I think turquoise is most effective when presented alone (as a bead necklace with little or no metal in involved) or in a brooch with a minimalist (ideally prong, or a low-profile bezel) setting.

But that's just me! You do what you like. Agree? Disagree?


Do you remember these beautiful antique beads that I bought at a rock shop in Santa Fe last year? It's taken 15 months but they are strung — strung for me by our own Missannethrope.

See how beautifully they work with the high-concept CDG top* and fawn colored trousers? A white patent leather bag and open-toed black patent flats complete an early summer look. I don't usually say this, but I think I look sophisticated. Or, my outfit is sophisticated.


These beads look like planets, don't they? That would make me an intergalactic Colossus, who has gathered a little planetary system close for safe-keeping. Or is wearing a prize around her neck, as a warning to all comers.

For those wondering, I recommend wearing turquoise with white, tan, khaki (
whatever that may be
), navy, fatigue green and possibly other greens with blue or brown undertones, and black.
Genevieve Antoine Dariaux, the author of
A Guide to Elegance
, recommends combining turquoise with diamonds. The thought of this combination intrigues me, and I can imagine that it could be very interesting. A diamond pave bead added to this mix, for instance, might be Very Effective.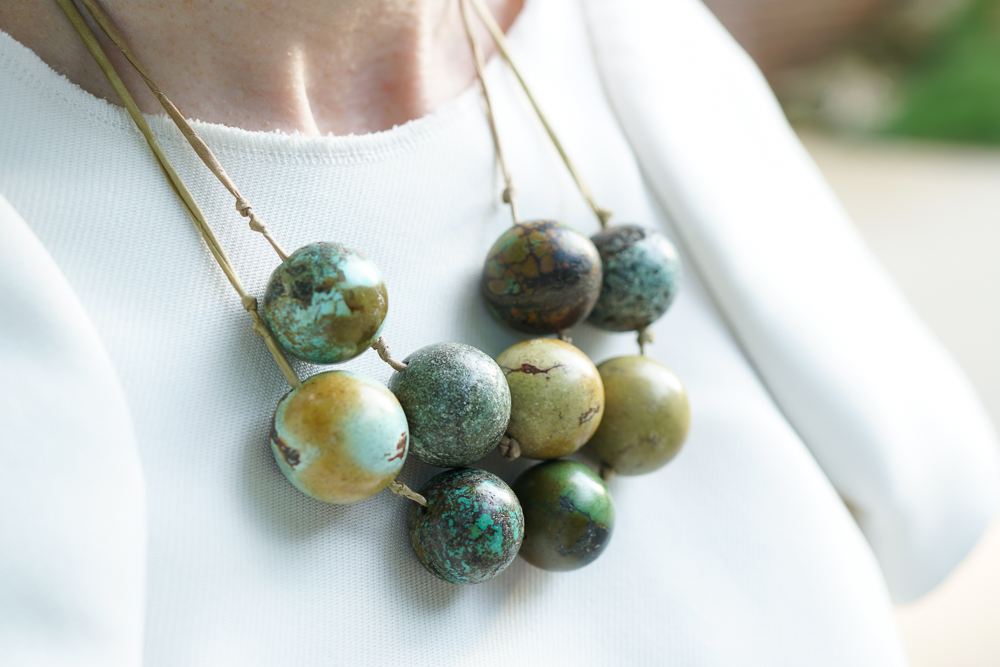 Since I am posting this as a Sunday evening boost for anyone who has the Sunday Night Panics or the Sunday Night Blues, don't forget to read
Thursday's post
.
Top: Comme des Garcons from The RealReal; Pants: JCrew; Shoes: Tory Burch; Bag: Ferragamo; Watch: TechnoMarine
* Every few weeks, I scribble out a whole bunch of ideas for future posts. My handwriting has deteriorated over the years and I frequently use shorthand and abbreviations, so I am sometimes puzzled by my own notes. In looking over what I'd written about a potential post featuring these beads, I blurted out, "What does Charles de Gaulle have to do with any of this?"
** You may be relieved to know that
even I
can see that these beads are an obvious choking hazard. I don't want to stuff them in my mouth, but looking at them does make me want to touch them and learn all of their secrets.