During the summer, I like white skirts and pants. They capture the essence of summer.



A white skirt or white pants is also the basis of an extremely simple outfit formula, which is: WHITE SKIRTPANTS + X = Dressed.

In this equation, X can stand for almost anything (not, perhaps, fur vest, but almost anything), and you are good to go.


To demonstrate this point, I will be publishing a series of posts (WHITE SKIRTPANTS + X) over the course of the summer showing, um, white skirts and pants until you agree with me that this is a very easy approach to summer dressing.

We'll all be crying uncle by Labor Day.


As you may remember, I don't actually like skirts (and I dislike spending money on pants), so I am quite content to rely on old skirts and pants from season to season and to focus my efforts on the X part of the equation.

For summer, I bought a couple of Marni tops from The RealReal at a fraction of their original retail price.
The Photographer insisted that I share this shot. I agree that the background is very beautiful, but fear that I look too monumental . . . like the statute of a dictator.*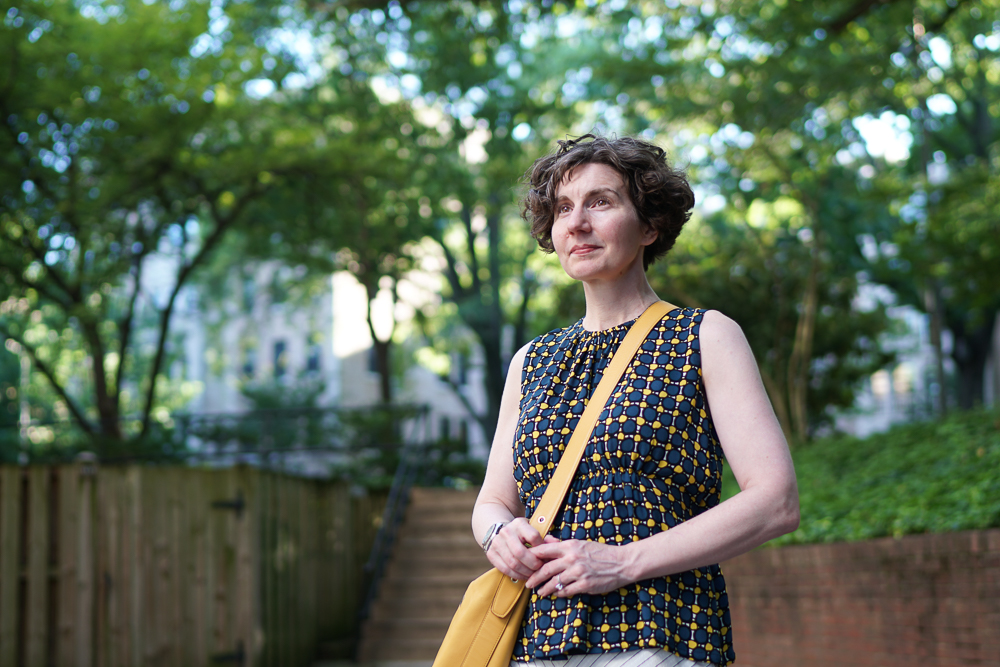 Come closer and take a look at this pattern.
Now, let's take a look at the same top with my old (very old) eyelet skirt.


This pretty eyelet is actually sturdy, and is layered over a cotton lining.
Finishing things off, my 2019 NSFW sandals: a leather and foam platform adaptation of the classic Teva sandal, which I bought only because the platform Tevas I really wanted were sold out. I have consoled myself with the thought that leather is more suitable for work than nylon webbing.

I have fallen hard for this BS luxury sport sandal fad, but I promise that I will never purchase a pair made by Prada or Fendi.
Top: Marni from The RealReal; Pinstripe skirt: Ganni; Eyelet skirt: Talbots; Bag: Coach; Shoes; Jslides Blakley Sandals; Watch: TechnoMarine
* Did you know that North Korea has developed a whole export industry in the economic sector of . . . statutes of dictators?
C'est vrai!