I got the boilersuit and, unexpectedly, I think it's the most flattering garment I own. It may be the most flattering garment I've ever owned.





Take all the time you need to process that statement.

For me, the realization was instant and now I have to decide what to do with that information.

Query: Should I find a job where I can wear a boilersuit everyday?


I did look into boilermaking and found myself on the website for the International Brotherhood of Boilermakers, Iron Ship Builders, Blacksmiths, Forgers and Helpers. They do so much more than make boilers, but I didn't see skills (other than boilersuit-wearing) that were in my wheelhouse.

I think the boilersuit is working because it: (a) fits like a tailored, but not tight, catsuit and (b) by some miracle seems to be made to my measurements. Even the length of the arms and legs is just right.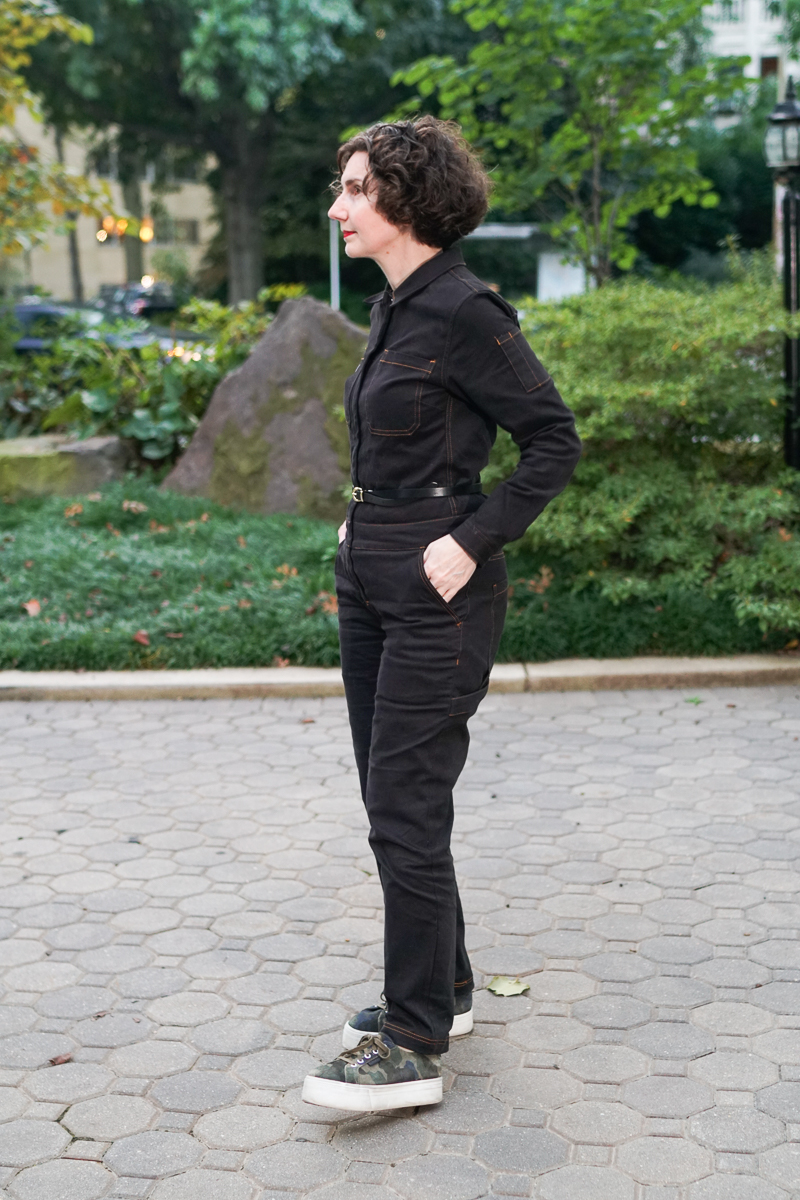 Perhaps, dressed in this suit, I look ready for a little cat- burglary. Would the orange top-stitching give me away?


Come closer and absorb the details.

The waistband sits below my natural waist, but that's how the designer intends it to sit.

Still, I felt I needed to add a belt, just for clarity.


In case you are thinking, The Directrice has lost her mind — let me assure you: I am not alone. Winston Churchill was a devotee of the boilersuit. He had many custom made for him by Turnbull & Asser, in a variety of fabrics including velvet (for dressy occasions) and serge (for business). Presumably, he had some made in practical fabrics for walking and painting, too.


Here is a rare shot: my behind. This photo is also out of focus, so I am using it over The Photographer's objection.

I am including it for a reason — so you can see that the back pockets are sitting low, too low, on my body. But that's how the kids are wearing them.

I did think about asking Fatima to raise the pockets, but realized that boilersuit alterations might be a next level that I do not want to attain.




Here is another perspective — crystal-clear — on the low-sitting pockets.


For those who want to be immersed in the details, here is the topstitching up close

The jaunty spread collar closes with a snap. Note: The boilersuit zips up — no buttons. Buttons probably would have been a dealbreaker. As noted in comments to a previous post, going to the bathroom in a boilersuit is not convenient.
This suit is made by
Wild Fang
, based in Portland, Oregon. The company was started by two women who worked at Nike, but left to pursue a vision of clothes that defied traditional gender norms. In addition to their design aesthetic and a passion for pockets, the company is committed to inclusion, sustainability, and philanthropy.
Boilersuit: Wildfang
Essential Coverall