You may remember my enthusiasm for Marni? The volume, the pattern-mixing, the extraneous flaps?


For those who've forgotten, or never knew, behold and understand:
I bought this Marni jacket from YOOX after coveting it for some weeks (weeks that probably stretched into months), during which time the jacket was living in a virtual shopping cart and visited periodically by me.
Perhaps you can see the attraction? This jacket appears to have been cryogenically frozen, dropped on a concrete floor, and then frantically re-assembled. The color, a cement green, gives it a little sobriety and makes it appropriately worky.
When it arrived, however, it was a dreadful disappointment: very boxy and stiff, and a little too long. And because I had waited for a Final Sale price, it couldn't be returned.



Then it occurred to me that, just maybe, a belt might salvage the situation.
While this trick (belting to add definition) usually works best with fluid or light-weight fabric, I think this Marni jacket looks great belted, even though it's made of a stiff cotton. Belting causes the jacket to bell out from the natural waist, which looks like a fancy dress-making effect achieved with darting, tulle, and buckram when it is actually an unintended effect achieved by a desperate woman trying to salvage a final-sale purchase without expending any time or money. A miracle.
Come closer to see the details: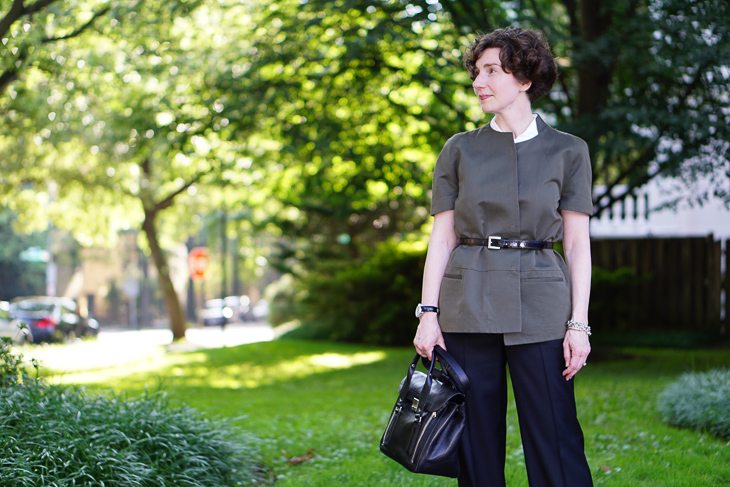 No, closer!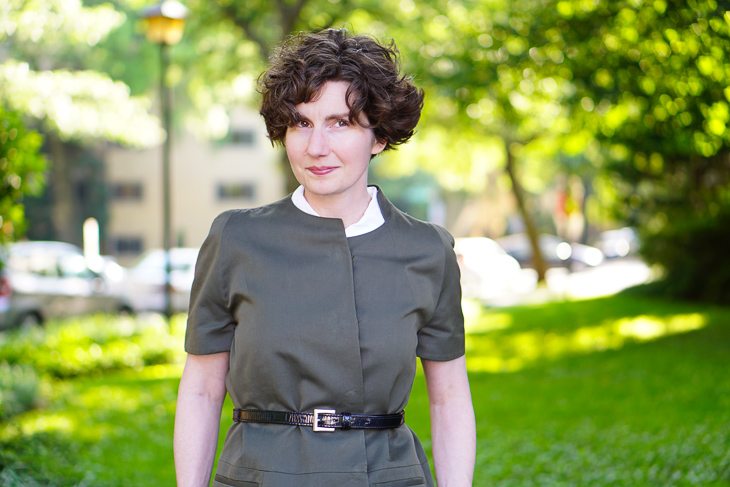 Really close!


To finish things off, a few silver bracelets and a satchel.
Jacket: Marni; Blouse: Banana Republic; Belt: Ann Taylor;  Pants: JCrew; Shoes: French Sole New York; Bag: 3.1 Phillip Lim Pashli Satchel; Watch: Michele CSX; Bracelets: David Yurman