I am so pleased to be dressing up for work two days a week and going downtown. It's nice to get out of the home office and it feels very manageable. I am wondering, though, if at this rate I will need to push out my retirement date (countdown: 12 years, 6 months, 2 days) in order to wear all the outfits I have planned.

Just kidding! Right now I only have three posts planned and am just trying to get through the sale acquisitions of F/W 2020 and the modest Pandemic Collection.  I may not need to buy anything until 2024.
Obviously if another dress as fantastic as this one were to pass my line of sight, we'd have to re-visit that projection.
A silk shirt dress strikes just the right note of professionalism and informality at present. Also: The loose cut is very forgiving.

This scarf print — links, knots, and ribbons — is intricate. Despite several distinct motifs, it's not chaotic; it's lively. And while I would generally say that five colors — navy, grey, black, cream, and orange — is two colors too many, the colors really work and make the dress versatile. It can be paired with black or navy accessories and would look very smart with a tan, navy, or black trench coat.
However much I love the print, I feel even more passionately about the cut, which was not at all clear from the photos I saw on The RealReal. And here, Directorate, is an important lesson worth repeating: When you receive something by mail, always try it on.
This caftan-like shirtdress is cut full and straight through the body. I've belted it to give it some shape, although that's not how it was shown by the designer. But here's what I didn't appreciate. The dress is cut very narrowly through the shoulder and upper arm and then, just below the bicep, blossoms into a very full sleeve that is gathered into a fitted cuff at the wrist.
Can you see what I mean?
Come closer. Look at my shoulder. Do you see it now?
How about now? Do you see what I mean?
It's ingenious. If the sleeves weren't fitted in this way, I fear the dress might just look like a sack. Which doesn't mean I wouldn't have kept it — for the print — but imagine my delight in finding a design far cleverer than I expected.
Here is how the sleeve looks when my body is out of the picture.
In case you are wondering about the words printed in the ribbon, they say: rokh; autumne/hiver; printemps/ete; 0000-0000.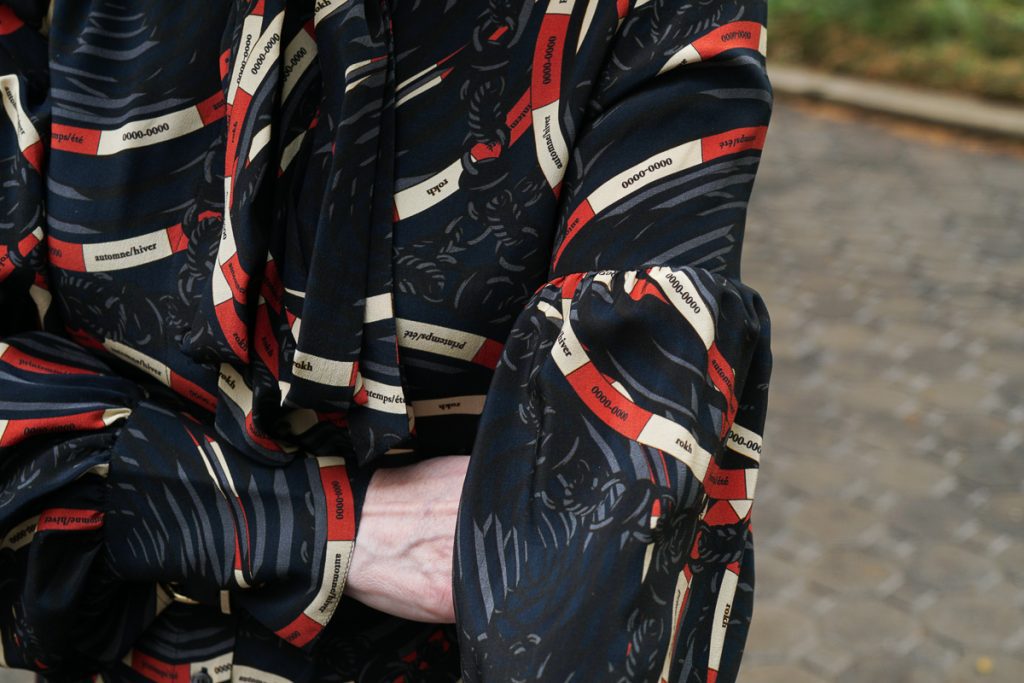 The designer, Rokh, often works the year and season into his prints. I don't know why all four seasons are listed in this print, but I do think this versatile dress could go three seasons (Spring, Summer, Fall) very easily.
Dress: Rokh from The RealReal; Shoes: Rebecca Minkoff (old); Bag: Coach Rider (also old, but may reappear in the Coach (Re)Loved program!)