Today's post shall be light on content. I am giving everyone time and space to process my profound teachings on vacation packing. Also, I didn't draft any posts before leaving for vacation and am scrambling to do so now.




I value well-made garments and am always delighted when I order something from a label I know nothing about and find that it is beautifully made.

I bought this dress a couple of years ago and it was one such delighful surprise. Army-green cotton with a slight sheen to it with decorative piping and stitching.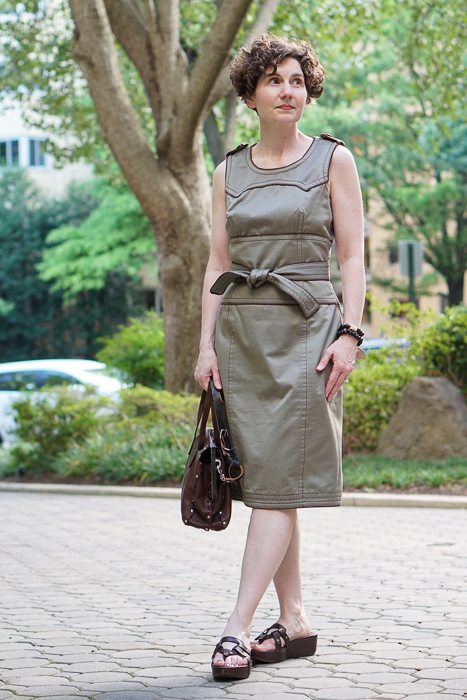 If you come a little closer, you might be able to see the details better. Of course the best detail of all is not visible: it's lined with chartreuse silk!


From the back, this trench detail.

There is no function, but so much form.

This dress is from a Canadian label, DSquared2, which I found on YOOX a few years ago. I recommend the brand because the clothes are stylish and distinctive and beautifully made. But be forewarned: the sizes run very small — this dress is a size 8 and I have ordered others in size 10 and size L — and expensive, even when bought from YOOX.



Perhaps, you are wondering, How expensive is expensive?

Here's a yardstick: DSQquared2 has a shop on Capri. But on YOOX, the dresses can drop down into the $200-$300 range.

Finishing things off, dark brown sandals, bag, and antique wood bracelets.

I bought the bag on eBay after I missed my chance to order it from Marni's website.
The bracelets are a souvenir from Paris, purchased after a sloppy (and erroneous) calculation of the exchange rate. Though I paid more than I intended, and more than I probably would have agreed to pay at the time if I had calculated properly, I am so glad for my mistake. I love these bracelets. The embellishments are antique, too: a religious medallion and carved bead of a somber face (looks like a crusader to me).


Dress: DSquared2; Sandals: Frye; Bag: Marni; Bracelets: Gavilane