In the final days of March, I scramble through my closet picking out things that didn't get enough wear in the preceding months and try to wear them one last time before packing them away for the summer.



Things like this cunning jacket, which I adore but only wore once or twice this winter.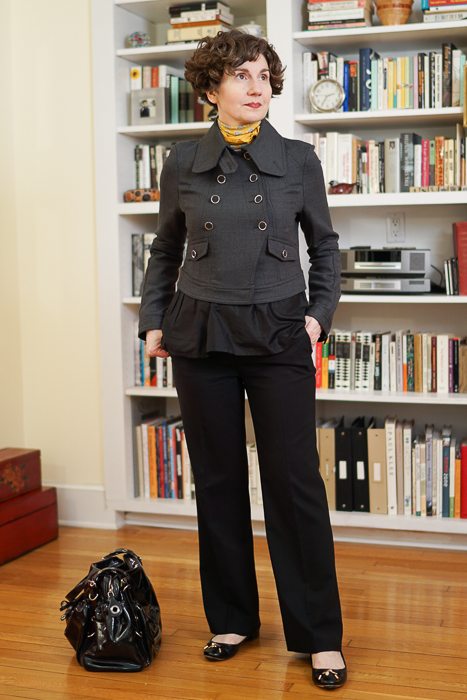 You may remember this jacket from last winter? I wore it with a fuschia top (belted with a narrow fuschia belt) and grey wool trousers. Why am I describing this to you when you can just see it for yourself
here
?
If I may say so, I think this is a distinctly different look.


During the spring, layering is no longer a simple exercise to keep my mind sharp. It becomes an elite sport. Why? Because temperature variability means that you might actually being donning and doffing layers during the day; therefore, all layers must be ready for public viewing.




I bought this camisole from JCrew years ago and it has served me well. For dressier occasions and on the weekends, I wear it on its own, but it is far too bare for work. A tissue-weight cotton t-shirt underneath does the trick, as would any top made of a lightweight jersey.

Despite the fact that I am wearing a black top and black pants, this look has a certain lightness. Bare arms, a light-colored t-shirt and flats worn without tights/sock create that impression.


A scarf is also smart when the mornings and evenings are crisp.

One more easy way to tie a scarf: This is a simple fold wrapped twice around my neck and tied in a square knot (with very short ends).


Double-breasted jackets confound me. Other people seem to wear them open convincingly. I'm not sure if I am carrying it off.

Come closer to see the smallest details. I don't usually wear bracelets on my watch wrist, but I do admire the look on other people. See me stretch myself (below left) and try something new.
Jacket: Vanessa Bruno; Camisole: JCrew; Striped t-shirt: JCrew; Pants: JCrew; Shoes: Coach Noella flat; Watch: Michele Urban; Bracelets: David Yurman Cable Bangles; Scarf: My mother's vintage Liberty scarf; Bag: Car Shoe