Keeping my promise/threat to show you my old clothes — because this blog is conceptual, not commercial — today I am taking you back to 2006.



I first wore this ensemble in 2006.

You may wonder how I remember the year so well. Easy. I wore this jacket/blouse/trouser ensemble for a deposition in St. Louis, and I had to stay at the one of the airport hotels because all the downtown hotels were booked. Why? Because the Cardinals were playing in the World Series.

Airport hotels, as a rule . . . not very glamorous.*



It may be hard to see in these photos, but my pants are faintly pinstriped. You know I like a tweedy jacket with a pinstriped pant.

The blouse is a pink organza which, despite the delicacy of such a fabric, is still thriving in my closet.

You've seen this jacket
before
. It was a little too big for me, but rather than spend a lot of money having a seamstress take in the seams, we just moved the buttons over. A very easy fix.


The buttons were originally off-center (i.e., asymmetrical) and I just made them a little more off-center.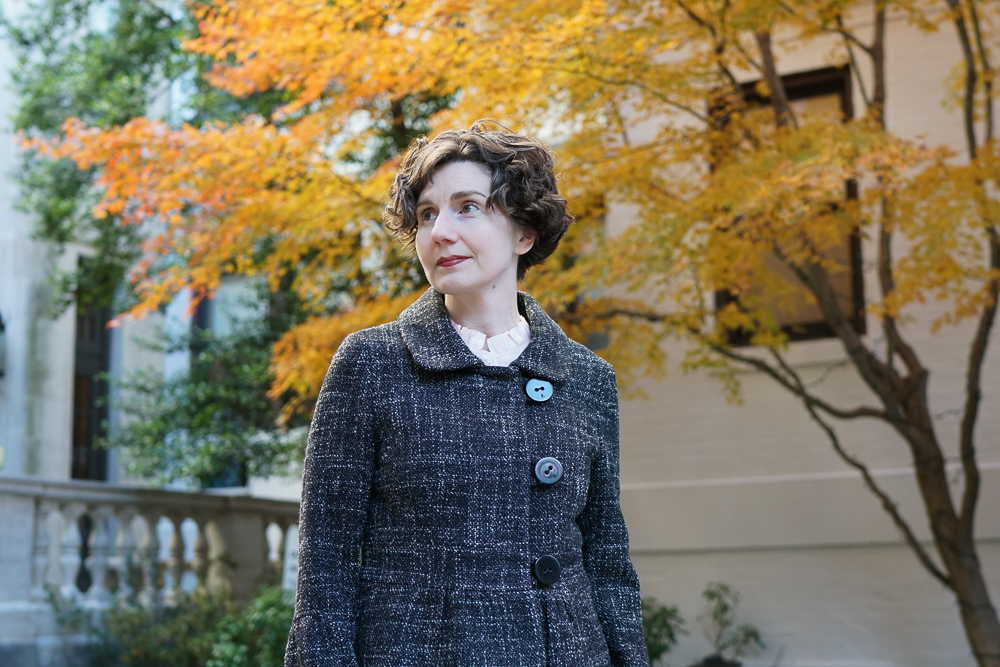 Rightly or wrongly, I think pale pink is a neutral for blouses and sweaters and have an assortment of pink tops. This one is particularly charming because of its pleated,
standing collar and tiny square buttons.


To compensate for showing you something old, I will show it in more than one way. That seems a fair trade, no?

With a turtleneck for days that are particularly cold or your mood is severe.

I love turtlenecks.


I love turtlenecks even if they make my face look very round.



The Photographer asked me to turn, but I did one better, I jumped and turned –catching him by surprise. He was very disappointed that he didn't catch me in mid-air.


This is what he missed.
The Photographer did not know about Philippe Halsman's "jumps." Halsman believed that his subjects revealed interesting facets of their personalities when asked to jump for the camera and the photos he captured are charming. If you haven't seen these before,
take a look
.
* When I arrive in a hotel room,+ I check the room very carefully for . . . my murderer . . . who I am always sure is patiently waiting in the closet, behind the drapes, or under the bed. (Or in the shower, if the shower curtain is drawn.) When I checked under the bed in St. Louis, I found: a pizza box, a crumpled napkin, and an old foam hair curler. It's the only time — in all of my travel — that I've ever found anything under the bed. Who would put a pizza box under a bed in a hotel room? In any room?
** Ten years of ballet lessons and this is all that remains.
+ Surely I am not the only one who looks under the bed when staying at a hotel? What are your travel rituals?