Happy New Year, dolls!

Looking back over 2017, I realized that there were a number of things that I had planned — but failed — to do. I didn't entertain as often as I intended to, failed to make trips to California and Minnesota to have cozy visits with friends who've moved away from D.C., and I only managed to see one movie — ONE — in a movie theater.

I decided to set things to rights during the week between Christmas and New Year's Day.



Of course, the week between Christmas and New Year's Day is a bad time to throw impromptu dinner parties and visit people who aren't expecting you, so I focused on the one thing that was within my control and likely to be successful: I went to the movies.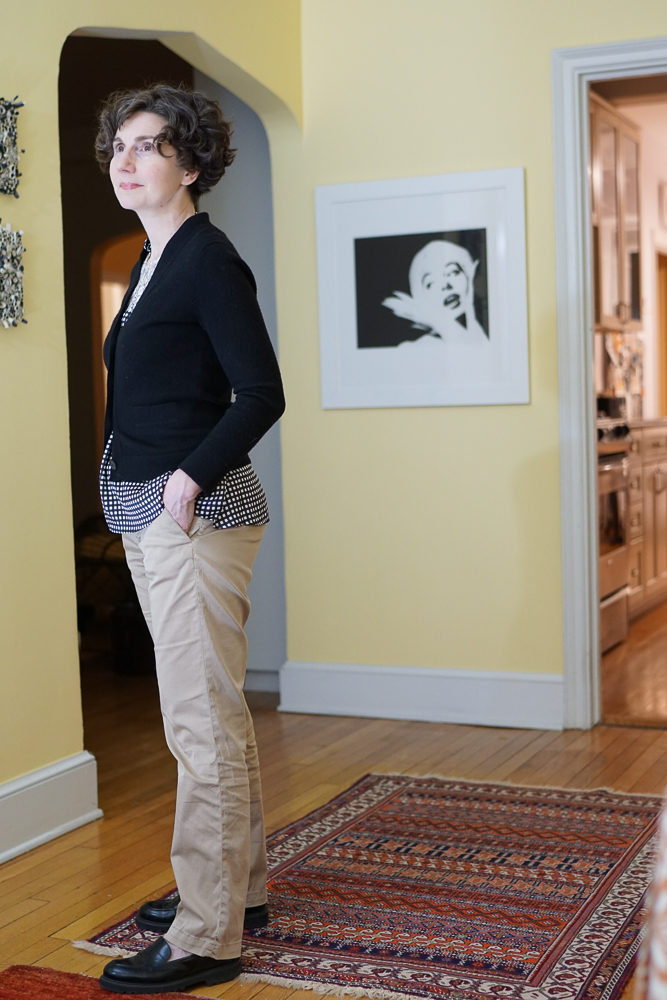 I aimed to see five movies, made it to four, and actually saw three: Lady Bird, The Disaster Artist, and The Last Jedi.*

But the point of this post is not reporting-out my vacation accomplishments, but rather this: You know how I am always telling you to buy little sleeveless tops for work to wear under jackets? They also look cute with a cardigan, sloppy khakis, and penny loafers on the weekend.


This top combines stretchy lace and silk. The lace is particularly charming — figured in these roly-poly shapes (are they continents? cells?) edged with black thread.
In addition to the movies I saw in theaters, I watched four more at home —
Dunkirk
,
Rebecca
,
To Kill a Mockingbird
, and
Get Out
.
For those who are curious, I wore a sweater, leggings, and my
James Webb Space Telescope
skirt for the viewings at home.
Top: Marissa Webb from The Outnet (still available); Sweater: JCrew; Pants: Banana Republic; Shoes: Carlo Pazolini from YOOX
And now, my micro-reviews. If you want erudite, detailed reviews, read the NYT or The Atlantic.
Lady Bird: The film captures a girl's senior year of high school in Sacramento, California, opening with a quote from Joan Didion, "Anybody who talks about California hedonism has never spent a Christmas in Sacramento." It's a beautiful film, and every character is beautifully acted. If your teen years were filled with angst (mine were not) or you had a fractious relationship with your mother (I did not), you will have one of two reactions: pain or catharsis. I guess you could have both simultaneously, or in rapid succession. Even without the personal resonance, it was almost too poignant for me. But really wonderful!
The Disaster Artist: I think this one is best-described as a cult film about a cult film and its appeal is probably going to be limited to a small number of people who might find perverse delight in a very good film about the making of a truly terrible film. That falls squarely in my wheelhouse! It was, however, more poignant and delicate than I expected (a reaction that may reflect my mood more than than anything else).
The Last Jedi: The Photographer and I agreed this would have been a much better movie if it had been 45 minutes shorter. The Photographer — science fiction connoisseur and futurist — said that he felt like he'd been beaten to death with special effects. But I did find the intense relationship between Rey and Kylo Ren (a name I confuse with Rilo Kiley, which I often mistakenly call Kilo Riley) very affecting and romantic and, on balance, worth sitting through the bombardment of CGI tomfoolery. I also found Luke Skywalker's ruminations about failure very poignant. See discussions of poignancy above. We liked Rogue One better and if you haven't seen that movie, you should.
Dunkirk: This one wasn't at all what I expected. I thought (hoped) it would focus on the scale and emotion of the evacuation effort (particularly the civilian effort) and end on a tremendous high, but it did not. Fair enough! I also imagined it would have . . . running dialogue. Instead the film was an almost entirely atmospheric (visuals and symphonic music) series of really bad turns. With adjusted expectations, I can say that it was a beautiful film, but not one that I'll watch again.
Rebecca is one of my all-time favorites and The Photographer had never seen it, so it was a treat to watch it with him. The scene in the cottage . . . when Maxim finally tells his young bride about Rebecca . . .
To Kill a Mockingbird: I hadn't seen it in 25 years and The Photographer — inexplicably — had never seen the movie or read the book. He read the book before Christmas and suggested we watch the film together. It's a beautiful movie that has held up. I was worried that it would be too sad to enjoy, but actually found it moving and ultimately uplifting at the end.
Get Out was the best movie that I saw in 2017: brilliant, thought-provoking, and moving. The movie is in the style of a horror movie, but defies neat categorization. The Hollywood Foreign Press Association, however, mis-stepped by grouping it with comedies, prompting the director, Jordan Peele, to tweet, "Get Out is a documentary." I highly recommend it. The Photographer suggests two viewings: one for plot, the second to allow the genius of its plot, dialogue, and imagery to sink in.
* My ambitious movie-viewing plan was more time-consuming than I had imagined. I'll catch The Post when it comes to the Avalon Theater in my neighborhood. The last film on my list, Phantom Thread, is playing at a theater three blocks from my office, so I'll go one evening after work when I return to the office.