A cliche is something (a phrase, gesture, or trope) that has been overused to a point where it engenders mild disfavor. A formula is something that is tried-and-tested, reliably producing the same result each time it is faithfully followed. While cliches are generally something we like to avoid (unless we are dressing ironically), formulae are very useful in wardrobe planning.

For example, I like a
white dress
with an earth-toned safari jacket during the hot months. It's a look that is both polished and seasonally appropriate.
Here, I am wearing
an old dress
with a jacket from this season.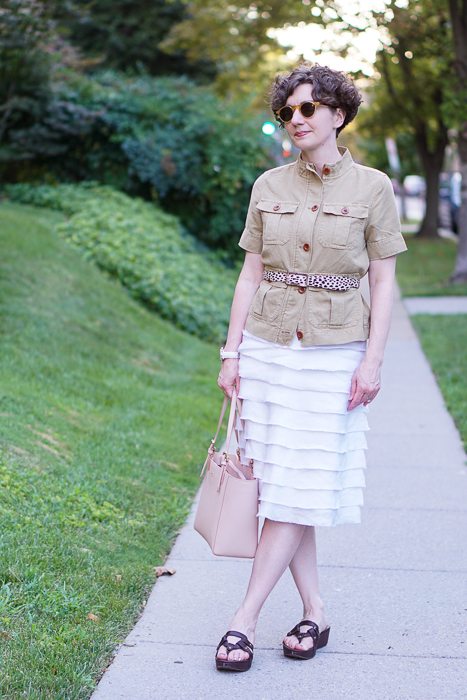 This type of jacket is versatile. I'll show it at least once more before the summer is through, but I have lots of ideas about how to wear it:
with white jeans and a light chambray shirt under it;
with jeans and a long-sleeved striped t-shirt;
with cropped denim jeans and a long-sleeved white blouse;
with a black sheath and black platform sandals!



The jacket is boxy and an inverted pleat down the center of the back adds swing and volume. I decided to belt it even though it doesn't have belt loops and the lower pockets are right were you would most naturally wear a belt.

As you can see, I've improvised and am wearing the belt over the flaps on those pockets.



Can you see what I mean?

The belt works. Why does the belt work?




Because the belt is awesome.
Full disclosure: I bought this jacket for myself and for my mother.
I thought she would like it.
And she does.
So . . . my mother and I have matching jackets.
For those who want a closer look at the other details:



These sandals are fine for work during the dog days of summer. In Washington D.C., it's over 90 degrees, and the city is noticeably emptier at the end of July and start of August. Those conditions permit a certain level of informality.

So sayeth the Directrice!

Jacket: JCrew
Safari Shirt Jacket
; Dress: JCrew; Belt: Garnet Hill; Sandals: Frye; Bag: Tory Burch York Tote; Watch: Michele CSX with white alligator band; Sunglasses: Illesteva
By the way, I just received a new JCrew catalog for fall —
many
(italics for emphasis) cute things in it, more than I could possibly try out and write about myself, so you may want to visit the JCrew website sooner rather than later.
Have a fantastic weekend!