Unlike previous summer series — The Woman in White (2015) and Navy Blue Is The Warmest Color (2016) — I am bringing the Utility Dress series of 2017 to a quick close. No need to string this out indefinitely and perhaps the lessons are more meaningful when delivered in rapid succession. We'll see. There is no time like summer to tinker with pedagogical methods.

You may remember the
Strapless Utility Dress
I introduced you to just two weeks ago?
SO MUCH has transpired since then. I have worn this dress twice. As promised, here it is with a camp blouse underneath. Very safari, SO Mogambo.**



There isn't a drop of originality in what I am about to say, but I'll say it anyway.
I really like chocolate brown and white with this shade of khaki.


This dress would look very nice with a sleeveless blouse underneath, too. Picture a crisp, white, sleeveless cotton blouse with a spread or even open collar. Wouldn't that be sharp?

This dress would also be effective with a black shell underneath.

Indeed, I feel like this dress has many more possibilities than I can see — not unlike Wurdle, when I am told that there are 113 words in the puzzle but I can only think of 25. "I have a large vocabulary," she cried plaintively.
So many of you offered such wonderful suggestions about how
the chartreuse jacket
could be worn — I feel certain that more ideas about the Strapless Utility Dress are percolating in your minds . . . So please chime in!


Now, a few details!

The cuff around the bodice; favorite wood beads; a mock-alligator bag.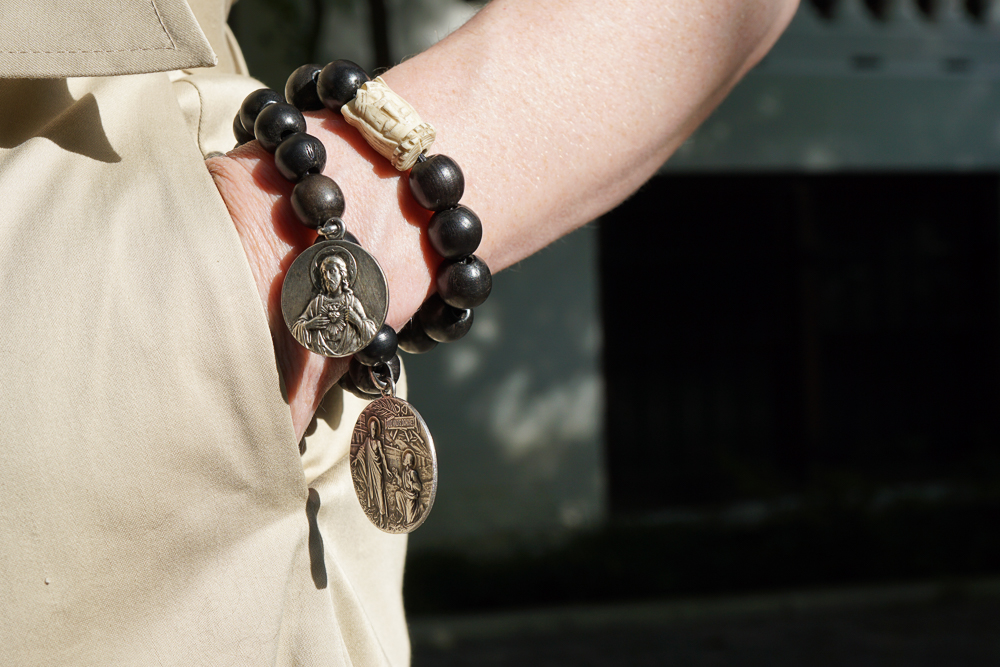 Dress: Banana Republic; Blouse: Theory; Bag: Furla; Sandals: Timberland
*
Is This Is It?
is a cautionary tale from a friend's days as the student editor of her high school newspaper. The graduating seniors were trying to convey their jaded, cynical feelings following college admissions, prom, and Pomp and Circumstance, with one last precocious headline: "Is This It?" Then someone thought "This Is It?" would be better. So it went back and forth among the editorial team, and in the end, no one proofed the final copy. The result was "Is This Is It?" which utterly failed to convey their worldly
ennui
.
** In case you are asking yourself, "What is it with
Her
and
Mogambo
? What is
Mogambo
?" While
Mogambo
is not one of Grace Kelly's good films (and if I were to see it today, I have a feeling I would find it disturbing and offensive in numerous ways), it was a
good movie for clothes
.