I told you that I bought two dresses to bring a little cheer into my WFH habitat. The one I showed you last week was the understated dress.




This is the other dress.

It has brought me considerable happiness each time I've worn it. I wear it every week. Sometimes more than once.



As we know, it is wrong to put too much value on material things.

But the happiness this dress has given me is not material in nature. It's visual, tactile, and kinetic.
First, let's discuss the print. It's called a "Dutch Wax" print. Some of you may remember my post on
Vlisco
from 2016. This fabric adds another layer to the Matryoshka story: it is a U.S. interpretation of the Dutch luxury fabrics that evolved — in response to a high demand in Western Africa — from an inexpensive imitation of Indonesian batik that was originally made in the Netherlands for sale in Indonesia.
The print is dark purple, light purple, and orange on a light cream field.
I feel like I would happily disappear
into
this print if I stared at it long enough.


Second, the weight of this dress, despite the many yards of fabric in evidence, is nothing. It's as light as feather. The cotton is fine, smooth, and crisp.

Third, the volume of this dress causes constant changes in its shape and movement. There's swishing when I walk and audible poofing when I sit or kneel. The sleeves are like bellows. They can be puffed up or batted down.
Look at these sleeves! Have you ever seen anything as wonderful and ridiculous? On me?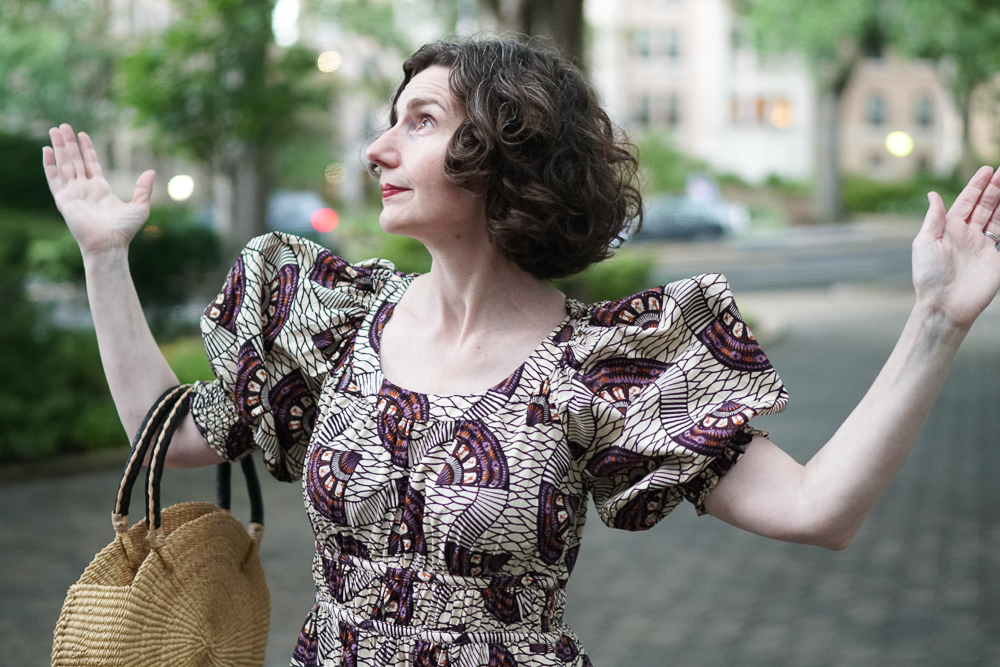 I think it's fair to say that this dress is not "a classic" — though I will give serious thought to being buried in it — but I do think the print qualifies as timeless. After questioning whether I had room in my closet for a dress that might look dated in a couple of years, I played around with it and realized that the sleeves and skirt could be narrowed to slim proportions and that it would still be a charming dress.

Sold! To me!
Dress: Ulla Johnson Juniper Dress; Shoes: The Sandals of the Summer (the J/Slides)