Part 1 of a three part series that began last week with Part 2. Fortunately, this is not rocket science . . .

If you don't have a utility dress, I am going to suggest you get one
forthwith
.
As we discussed last week, "utility dress" is a pretty big tent; I'd say it includes a wide range of neutral colored sleeveless and short-sleeved dresses with the following characteristics:
a pencil or slight A-line silhouettes;
poplin or cotton duck;
a buttoned placket or multiple pockets (if it has both, even better);
a self belt.


This dress has a bunch of those characteristics, but it is made of a silk-cotton fabric, so it's too dressy for getting under the car. But it's perfect for work.


Unlike many dresses in neutral colors, this one can't be changed significantly with accessories because it's too busy too wear most accessories. Collar, buttons, pleats, belt! That's a lot of visual activity, even when camouflaged by this non-color squirrel brown. I think a bracelet and watch are all that it will support, but tell me if you disagree.


Nevertheless, this dress gets a lot of wear — partly because I love it, but largely because it can look polished enough for a meeting when worn with wedges but not too dressy if worn with flats.


I forgot to mention the ruffles; they're too small to qualify as cap sleeves, but are a pretty detail on the armscyes.



This belt is considerably longer than it needs to be, so it has been buckled,
tied, and tucked. It's not coming undone.
In case you are moved, by my testimonial, to find yourself a utility dress, I scouted a couple for you. The great thing about these dresses is: They are available every spring/summer. The style is classic.

These are well-priced and cute, but you could probably find something more luxurious and distinctive on YOOX. Next spring, check Max Mara and Lafayette 148.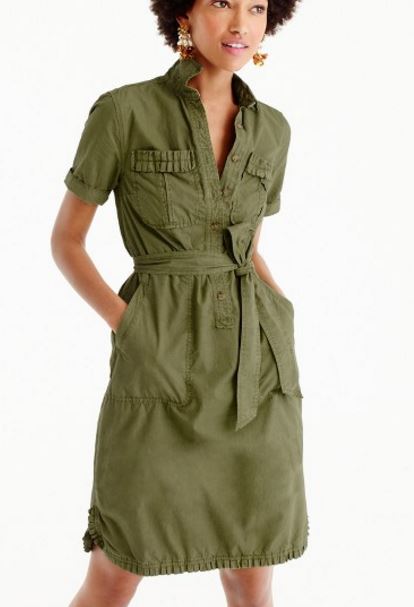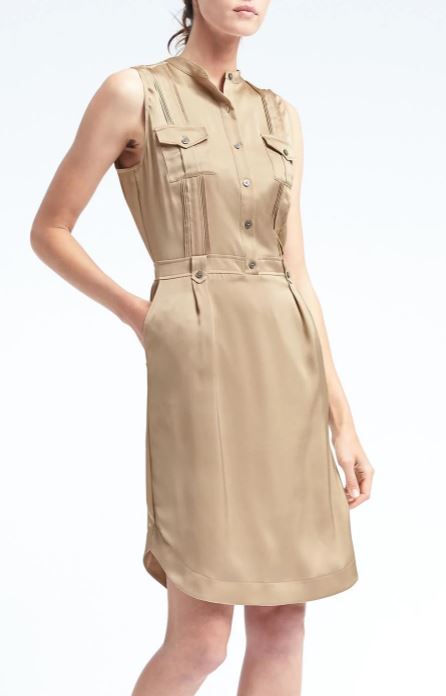 Dress: Burberry; Shoes: Taryn Rose; Bag: Coach; Bracelet: John Hardy; Watch: Michele