The social contract! It binds us all and enables us to live in some approximation of civility if not harmony.

The social contract, like any Terms of Service, is a long (though incorporeal) agreement with many sections and paragraphs, but not all of them are equally important. For instance, Taking Care of the Vulnerable and the Needy Benefits All of Us is more important than We Owe It To One Another To Dress Up For Air Travel . . . and yet I am going to write about the latter today.


Do you remember
my number one packing tip
?
Omit needless shoes.
When I am making a quick overnight trip for work, I usually
wear
the shoes I need for my appointment/hearing/meeting. No shoes in the suitcase!
I had a hearing in New Mexico a few weeks ago. The first thing I packed was this outfit for the hearing.
This was my itinerary:
Day 1: Fly to NM, eat delicious lunch, meet with client and co-counsel, prepare for hearing. Eat casual, delicious dinner with colleague.
Day 2: Eat delicious breakfast, attend hearing in the morning. Eat delicious lunch, then head to the airport for return flight to Washington D.C. Leave time to go to Baskin Robbins near departure gate.

I decided to use a wheeled briefcase for my suitcase.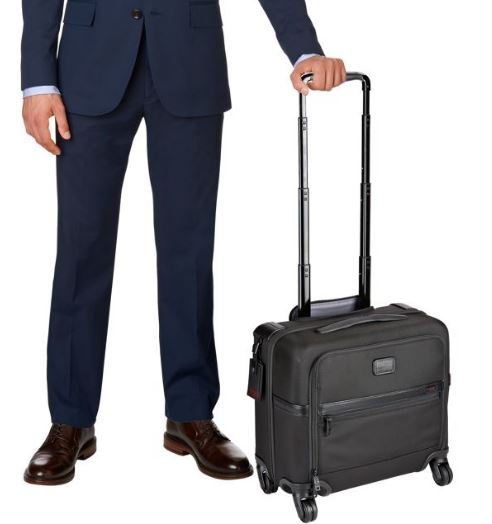 Using a bag this small means that after packing my Court Clothes, pajamas, and toiletries, I didn't have room for a full change of casual clothes for the return flight.

So I wore a camisole, blouse, jacket, and jeans. I packed the Court Clothes plus a long-sleeved t-shirt and sweater. I figured I could piece together a comfortable outfit for my return flight from my Day 1 clothes, Court Clothes, and the extra t-shirt and sweater in my briefcase.
That's right!
I took my tweed blazer/belt pairing on a cross-country trip.
You've also seen this floaty blouse and floral camisole
before
.

But in case you've forgotten what the blouse and camisole look like, here is a closer look:
For the plane, a
large scarf
is always a good idea.
If you didn't click on the hyperlink in the previous sentence, you've deprived yourself of the pleasure of reading my funniest post.


Are you dying to know what I wore for the flight home, after my hearing?

I ditched my Court jacket (which is beautiful but snug and scratchy) and blouse and put on the long-sleeved t-shirt with my soft tweed blazer. These grey suit pants are very comfortable; they s-t-r-e-t-c-h.


I look nice, right? Like a PROfessional.

I ran into two former acquaintances on my flights — one now lives in Santa Fe and the other lives in Dallas. That's a little weird, even for me.


I wore the scarf home, too. As you can see, the scarf (apricot) is not a perfect match with my t-shirt (gold), but I think the combination looks breezily collected.

The Photographer placed me in front of this tree and I am noticing that the shirt/scarf combination looks great with that foliage in the background. The tree is the missing piece!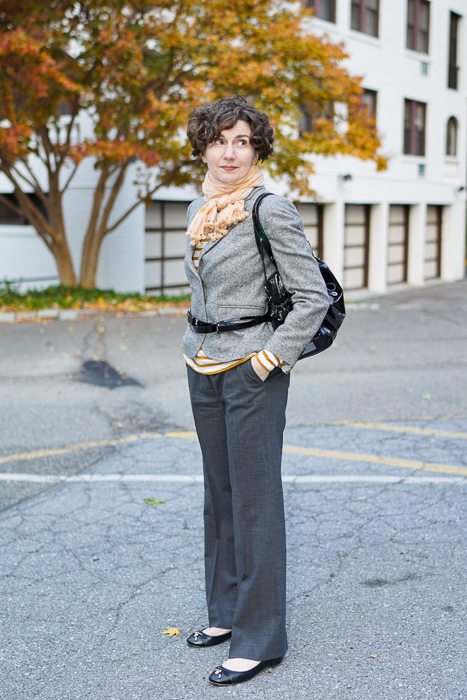 Have a fantastic weekend!
Tweed jacket: JCrew; Floral camisole: Theory; White blouse: MiH; Jeans: JCrew; Striped t-shirt: JCrew; Scarf: Eileen Fisher; Bag: Car Shoe; Court jacket: Dondup from YOOX; Blouse: Marc by Marc Jacobs