A scarf can be a lovely finishing touch, elevating an ordinary jacket or adding complexity and depth to a more considered ensemble.
In addition to its aesthetic value, a large scarf (e.g., 12 x 60, 36 x 36 or larger) made of silk, linen, cotton gauze or some combination of those fibers is incredibly useful in times and places that should be warm but are chilly, like: airplanes and trains; San Francisco in the summer; and the D.C. Metro system in the spring and fall. So when I am traveling for work, I often wear a large scarf, and when I am packing for vacation, I will include two or three.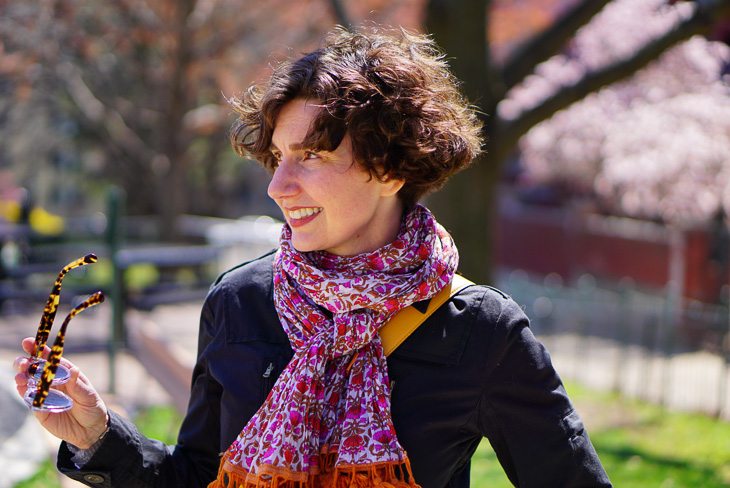 Here, a confession: I feel safer when I am wrapped up in a scarf. I don't mean cozy. There is something above keeping my throat covered that gives me a sense of security, as though I am warding off disease with a scarf when, in fact, the good health I enjoy is probably attributable to some combination of annual flu shots, Vitamin C and frequent hand-washing. Yet, when I am trapped on a long flight, listening to a person crouping uncontrollably in the seat behind mine, my response is to slide down in my seat and wind my scarf a little more securely around my neck.
But on this blog we deal in cold, hard facts, so let's set aside my irrational convictions about the biomedical power of scarves,[1] and focus on their demonstrable virtues, which are: un, they are beautiful; deux, they will keep you warm, and; trois, they will provide good protection from poison ivy (on your neck) and some protection from vampire bites. But remember, no long ends trailing glamorously behind you; The Directrice does not want to read about a spike in accidental strangulation deaths in the MMWR.[2] So wrap, knot, tuck!
If the idea of wearing scarves appeals to you, but you don't have any and aren't sure where to begin, may I make a suggestion? These four will cover a lot of territory: (1) a black and white scarf (geometric, abstract, or floral pattern), to wear with almost anything; (2) a leopard-print scarf in shades of brown (ideally camel and chocolate) to wear with tans and browns, as well as red, pink and lavender; (3) a patterned scarf in which your favorite color predominates, and; (4) a colorful striped scarf (light background) to wear with jeans.
Try: Marimekko; Eileen Fisher; Tory Burch; Lem Lem; JCrew. Also, check Orla Kiely in the future; there aren't any scarves on the site right now, but she did a wonderful collaboration with Uniqlo a few years ago.