We're half-way through the summer and so far I've been a model of restraint and subtlety.

Plainly, that will not do.



Summer is lawless in D.C. — one's Metro card feels more like a three month get-out-of-jail-free pass on the standards of business casual — and we must take advantage of the situation.

Why, you ask, this suspension of standards? Well, before the widespread installation of electricity, people abandoned the city in the summer. That heritage has enduring power* — everything is air-conditioned now and the city keeps working, but it feels like we shouldn't be and therefore we act like we aren't . . . to the greatest extent possible. Also, with people coming and going on vacation, it's never entirely clear who's "here," who's "out," and who is in-between.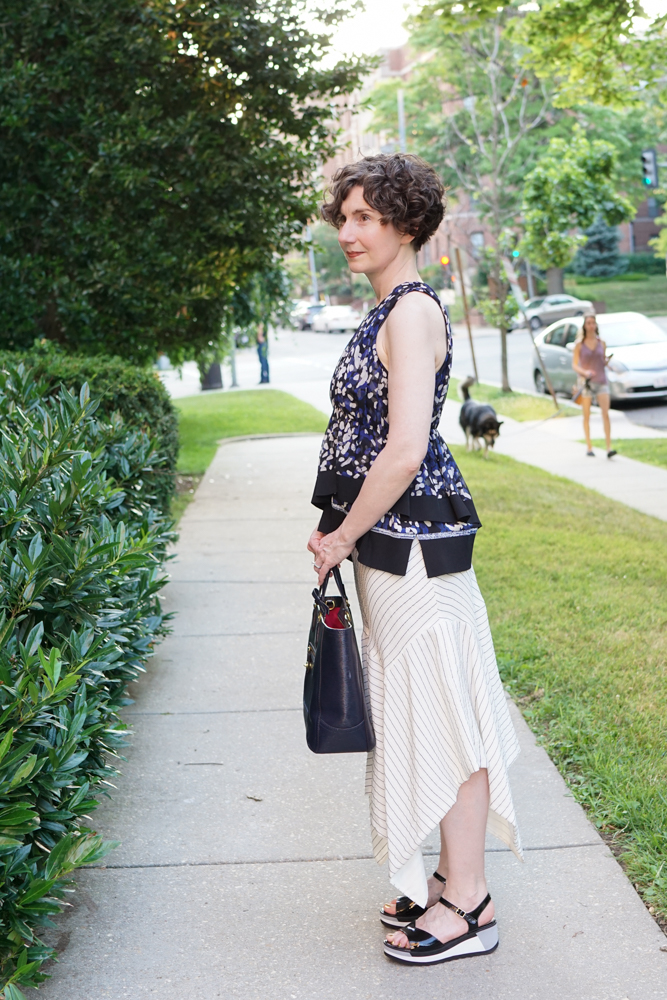 Added to the nostalgia-fueled tension are the physical effects of high temperatures. Heat stroke + dehydration = impaired judgment, hallucinations. Again, the opportunities for mischief abound!
Despite the fact that I might, might, be able to get away with a halter dress like
this
(which I think would look very chic with a belt), I don't push the envelope that hard.
I am content to show my shoulders, wear fun sandals, and engage in
advanced pattern mixing
.


This top is kind of brilliant. It's blue, cream and taupe on black — which means it goes with everything. The fabric is a whisper-weight chiffon, double-layered to create opacity and then finished with a heavy, ribbed trim along the hem — which weights the chiffon down.

In the previous photo, it looks as though the wind is blowing my hair around. But it looks exactly the same in this photo. So, it isn't wind. My hair is just standing out from my head at strange angles.

When I last visited my stylist, we had a very intense conversation about haircuts, style, and trends during which he referred to my cut as "short." I had thought of it as a mid-length, but he says no, mid-length is chin length or longer.

I have short hair!
Back to the outfit. Taken altogether, we have an abstract print top, a striped skirt, and color-blocked sandals. It's a busy combination, but not too busy. Indeed, it's
comparatively
understated. I thought about adding
these pearls
, but pulled myself back from the brink.
These pearls
also might have looked nice.


I went inside briefly to change and left The Photographer on the sidewalk where he captured this dreamy urban street scene . . . which is two ambulances.


Although the top is dressy, the ribbed trim reads sporty, so I thought a denim skirt was a plausible alternative to the silk skirt.




A glossy, navy tote seemed like the right choice to me — better than black.


And . . . scene! I have no more commentary to offer.
Top: 3.1 Phillip Lim; Ivory Skirt:
Ganni
; Denim skirt: Eileen Fisher; Shoes:
Wonders
* I have a little more commentary! Consider the siesta in modern Madrid or Barcelona. Most workers seem to be working through the afternoon, and yet everyone acts as though the siesta happened and eats dinner at 10:00 p.m.