I've previously disclosed that I kind of give up when the weather calls for relentless, heavy rain. The same is true of bitter cold.




When it's really (rilla) cold, you have to cover up with layer upon layer. That is the highest imperative. If can look stylish — and remember, the Michelin Man is French — that's great, but it's a secondary consideration.

Under these circumstances, color and decorative details are key because cut and fit . . . cut and fit are a lost cause.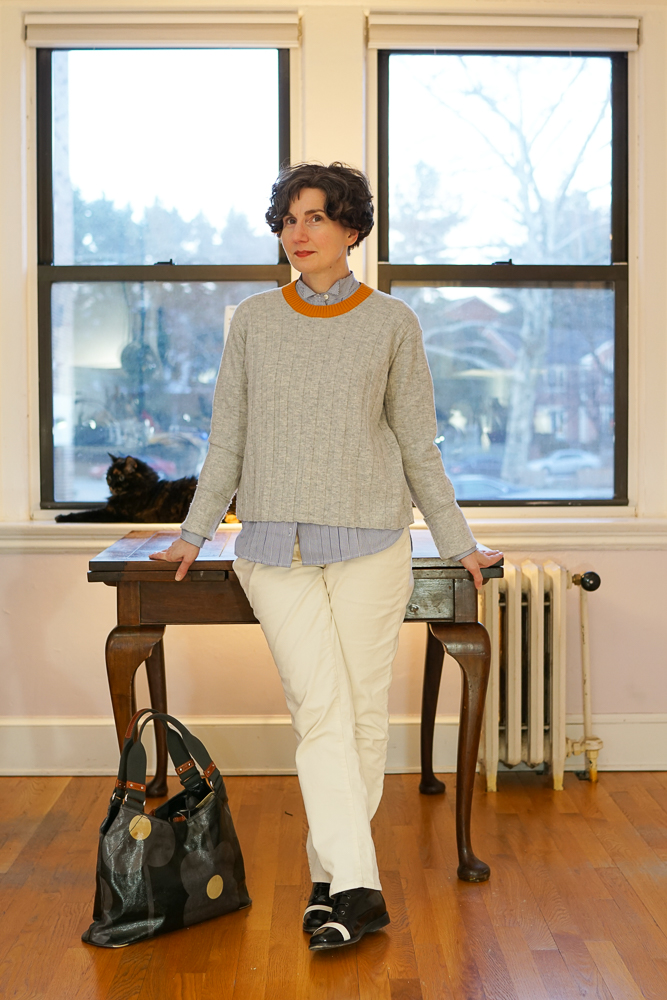 I showed you this sweater
a few weeks ago
and predictably bought it for myself during the post-Christmas sales. I am totally charmed by it and have worn it almost non-stop for 72 hours, including one day at the office.


The orange trim cried out for a blue shirt, I thought. This micro stripe is just the right shade of blue: bright, but not electric.

This shirt may require a separate entry. It's a standard menswear-styled tuxedo blouse. It has darts in the back, but I think they need to be deepened. I also think the front should be two inches shorter than the back and have an idea achieving this: a horizontal seam (to create a bib effect) that I will discuss with Fatima. Regardless, it suits my immediate purposes as it is.


The shirt is charming, will have much utility as soon as it is tightened up a little.



The best feature of this sweater is on the back. Should I approach people walking backwards and converse with my back to them while looking back over my shoulder? I think so.

Someone previously suggested that I simply turn the sweater around, which I will try the next time that I don it for 72 hours.

Finishing things off: a black and grey Orla Kiely bag and a sporty but feminine watch. The white top-stitching reads sporty to me here.
Some of you have asked me privately how I manage to write this blog and do all of the other things that I appear to be doing in my life: demanding job, marriage, pets. (Note: "Demanding" describes only the job.) My answer is this. First, I don't do any of these things as well as I'd like. Second, the blog is a my reward, my treat. Perhaps if I show you how blogging looks from my perspective you will understand?


A commenter named Amy sent me a link to this necklace a few months ago. I told The Photographer that I wanted it for Christmas. And lo it appeared! It will be the focus of future post.

I love it when readers send me such ideas, which you can do by writing to me c/o Harper.





Sweater: Derek Lam 10 Crosby; Blouse: Thomas Mason for JCrew Striped Tuxedo Shirt;
Cords: Talbots; Boots: 8 from YOOX; Bag: Orla Kiely; Watch: Shinola Birdy